Clarksville, TN – With the top three offensive leaders from last season lost to graduation, including three-time first-team All-Ohio Valley Conference performer Lauren de Castro, this year's Austin Peay softball team was going to have to have several players step up and do their best to replace those numbers lost to graduation.
One of those that have answered the need has been sophomore first baseman Christiana Gable, who has proven through the first half of the season to be among the best in being able to drive runs in when the opportunities presents themselves.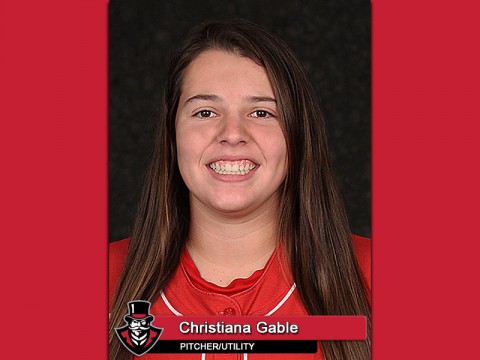 Right from the first game of the season versus Mississippi Valley when she collected three hits and four RBIs – including bringing in the game-winning run — Gable has been among the leaders in the OVC in get runs in.
Currently riding a seven-game hitting streak, Gable is currently sixth in the OVC in batting (.377) and home runs (6), tied for fifth in RBIs (23), fourth in slugging percentage (.754) and third in on-base percentage (.466).
During her current hitting streak – all against OVC opponents – she's hit .480 (12 for 25), including three doubles and two home runs, drove in nine and scored six runs. She also had a .840 slugging percentage and a .552 on-base percentage.
Among her hits was a three-run homer in the top of the seventh inning, in the first game of a doubleheader with Tennessee State – that proved to be the difference in a one-run victory.
These numbers are a vast improvement from her freshman campaign, where she batted .174, with one home run in 23 at bats.
But the Nolensville, TN native showed what she was capable of this past summer playing for Germany in the 2014 European Junior Women's Softball Championships – having dual citizen with her mother being a German native.
Gable help lead the German team to a 6-2 overall record an ninth-place finish in the tournament batting .650, with two doubles, three triples and a home run – while driving in 11 runs in the eight games – which ranked her second overall in batting average and fourth in RBIs.
So impressed by her play were her coaches, before Gable left to return to the U.S. they invited her to return this summer to play on the German senior women's team.
But there is still a lot of her sophomore season yet to play and on her current pace she could be on the way to having one of the best single-season offense efforts in APSU history.