Austin Peay Sports Information

Clarksville, TN – In Saturday's first scrimmage – a short 33-play affair at Governors Stadium – Austin Peay State University football team showed fight and moxie on the field, encouraging signs for head coach Kirby Cannon in his third spring at the helm.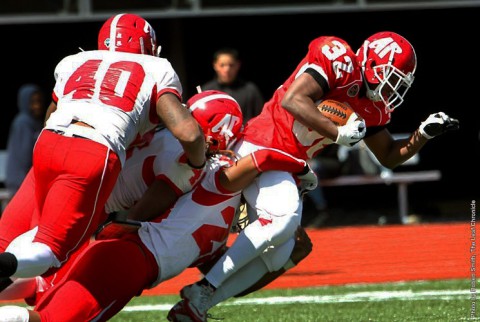 Although the Govs veteran-laden defense proved to be as solid as expected, particularly up front, Austin Peay's offense picked it up late and left Cannon with a positive feeling following the game.
"Very happy with the effort," Cannon said afterward. "As head coach, you want to see some success on both sides of the ball and this was a great day for that. Our hitting was better than what you normally get at this point in the spring, so I was very pleased with that."
A quartet of young receivers were targeted early and often on Saturday – Austin Peay attempted just eight rushing plays compared to 25 passes – and showcased the ability to stretch the field. Jared Beard had three catches for 57 yards, including a juggling catch in heavy traffic that he hauled in for 31 yards and a first down from Mickey Macius.
Jermer Braswell caught three passes for 29 yards, while Wesley Thomas added four for 13. Malik Boynton showcased his talents as well, ending the scrimmage with a leaping 25-yard touchdown grab, part of a three-catch, 43-yard outing from him.
Kendall Morris (three carries, 13 yards) and Julian Franklin (2/12) were the Govs primary ball-carriers on the day.
"Our offense is starting to catch up a bit," Cannon said. "Kids are making good decisions early in plays on offense right now, which in the past is something we've had trouble with. If the defense is taking something away, you can't try to force that and I think that's made us have a better release time on the ball. We've lost some of that freshman routine where you go out and panic on routes, which is  good to see."
Three quarterbacks saw time on Saturday. Macius, who started the scrimmage, was 4-for-7 for 61 yards. Trey Taylor attempted the majority of the Governors passes in this first scrimmage, going 12-for-17 for 102 yards, including the late touchdown to Boynton. Darrien Boone completed his lone pass attempt for 10 yards.
The Govs were aggressive on the defensive side, coming away with sacks from Zach Stuart, Jule Pace and Corey Teague. Demarion Allen led all defensive players with five tackles (four solo), while Benedict Louis and Antonio Turner had three each.
"I thought the front seven did a good job," Cannon said. "We've placed a premium on winning one-on-ones; last year for us to create pressure we had to send extra guys and scheme our pressure. It's coming along."
The Govs continue Spring Practice next week, with a second scrimmage scheduled for Thursday at Governors Stadium.