APSU Sports Information

Clarksville, TN – Austin Peay State University's softball team almost pulled off a seventh-inning comeback against Ohio Valley Conference leader Southern Illinois Edwardsville, Sunday afternoon at Cheryl Holt Field, but fell short in a 5-3 loss.
The Lady Govs (8-26, 4-11 OVC) entered the bottom of the seventh inning down 5-1, with SIUE bringing in Alexis Kohrs to relieve Cougars starter Baylee Douglass, who had allowed just one run on three hits in the first six innings.
Pinch-hitter Sidney Hooper opened the inning by drawing a walk, with Erica Inagaki reentering the game to run for her. Rikki Arkansas followed with a double to left-center field, scoring Inagaki all the way from first base to make it 5-2.
Pinch-hitter Alexis Hill ended Kohrs' short day by being hit by a pitch, bringing the tying run to the plate with the Lady Govs top of the order coming up.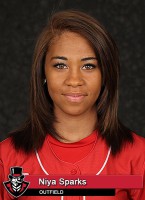 Douglass, reentered the game and got Chandler Groves to ground out for the inning's first out, but Arkansas scored, cutting the deficit to 5-3.
Laurel Burroughs reached on a fielder's choice when the Cougars tried to cut down Hill going to third, but both runners were safe, bringing the possible winning run to the plate. But unfortunately that would be as close as the Lady Govs would get, with Douglass getting Christiana Gable on strikes and Niya Sparks to ground out to end the game.
Austin Peay had opened the game by taking a 1-0 lead in the bottom of the first on Burroughs' sixth home run this season, just inside the left field foul pole.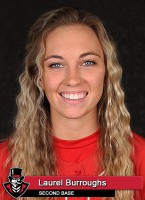 The score would remain that way until the top of the third inning when the Cougars (32-9, 14-4 OVC) took the lead on a three-run homer by Haley Chambers.
SIUE took advantage of an error to add-on a run in the top of the sixth inning, with Eby driving in the run with a single.
The final SIUE run came in the top of the seventh on an RBI double by Allison Smiley driving in Rebecca Gray, who had reentered to run after pinch-hitter Maria Prete drew a one-out walk.
Lady Govs are back on the field Tuesday, April 15th as they host Middle Tennessee for a 3:00pm afternoon game.
Box Score
SIU Edwardsville (32-9 / 14-3) -vs- Austin Peay (8-26 / 4-11)
| | 1 | 2 | 3 | 4 | 5 | 6 | 7 | R | H | E |
| --- | --- | --- | --- | --- | --- | --- | --- | --- | --- | --- |
| SIU Edwardsville | 0 | 0 | 3 | 0 | 0 | 1 | 1 | 5 | 9 | 0 |
| Austin Peay | 1 | 0 | 0 | 0 | 0 | 0 | 2 | 3 | 4 | 1 |
W: Baylee Douglass (13-4)    L :AYALA, Natalie (4-10)
SIU Edwardsville 5
| | Player | AB | R | H | RBI | BB | SO | LOB |
| --- | --- | --- | --- | --- | --- | --- | --- | --- |
| dp | Haley Chambers | 4 | 1 | 2 | 3 | 0 | 0 | 0 |
| lf | Rebecca Gray | 3 | 1 | 0 | 0 | 0 | 0 | 0 |
| ph | Maria Prete | 0 | 0 | 0 | 0 | 1 | 0 | 0 |
| 2b | Allison Smiley | 4 | 0 | 1 | 1 | 0 | 0 | 0 |
| ss | Alex McDavid | 4 | 0 | 0 | 0 | 0 | 0 | 2 |
| 1b | Rachel Keller | 4 | 1 | 1 | 0 | 0 | 1 | 1 |
| rf | Brittany Toney | 2 | 0 | 0 | 0 | 0 | 1 | 0 |
| rf | Kelsey Hansen | 0 | 0 | 0 | 0 | 0 | 0 | 0 |
| c | Tess Eby | 3 | 0 | 2 | 1 | 0 | 0 | 1 |
| pr | Samantha Jones | 0 | 0 | 0 | 0 | 0 | 0 | 0 |
| 3b | Haley Adrian | 3 | 1 | 1 | 0 | 0 | 0 | 1 |
| cf | Jordan LaFave | 3 | 1 | 2 | 0 | 0 | 1 | 1 |
| p | Baylee Douglass | 0 | 0 | 0 | 0 | 0 | 0 | 0 |
| p | Alexis Kohrs | 0 | 0 | 0 | 0 | 0 | 0 | 0 |
| | Totals | 30 | 5 | 9 | 5 | 1 | 3 | 6 |
Batting
2B:Allison Smiley (1); Tess Eby (1)
HR:Haley Chambers (1)
SH:Kelsey Hansen (1)
Baserunning
SB:Samantha Jones (1)
Austin Peay 3
| | Player | AB | R | H | RBI | BB | SO | LOB |
| --- | --- | --- | --- | --- | --- | --- | --- | --- |
| lf | GROVES, Chandler | 4 | 0 | 1 | 1 | 0 | 2 | 0 |
| 2b | BURROUGHS, Laurel | 4 | 1 | 1 | 1 | 0 | 0 | 2 |
| 1b | GABLE, Christiana | 3 | 0 | 0 | 0 | 1 | 2 | 0 |
| 3b | SPARKS, Niya | 3 | 0 | 1 | 0 | 1 | 1 | 2 |
| dp | HOEG, Morgan | 2 | 0 | 0 | 0 | 0 | 2 | 0 |
| ph | DiBENEDETTO, Vinchen | 1 | 0 | 0 | 0 | 0 | 1 | 0 |
| c | PAVEL, Mel | 3 | 0 | 0 | 0 | 0 | 1 | 3 |
| ss | INAGAKI, Erica | 2 | 1 | 0 | 0 | 0 | 0 | 0 |
| ph | HOOPER, Sidney | 0 | 0 | 0 | 0 | 1 | 0 | 0 |
| cf | ARKANSAS, Rikki | 3 | 1 | 1 | 1 | 0 | 0 | 0 |
| rf | BROWER, Courtney | 1 | 0 | 0 | 0 | 0 | 0 | 0 |
| ph | HILL, Alexis | 0 | 0 | 0 | 0 | 0 | 0 | 0 |
| p | AYALA, Natalie | 0 | 0 | 0 | 0 | 0 | 0 | 0 |
| p | NORRIS, Heather | 0 | 0 | 0 | 0 | 0 | 0 | 0 |
| p | BLACKWOOD, Allie | 0 | 0 | 0 | 0 | 0 | 0 | 0 |
| | Totals | 26 | 3 | 4 | 3 | 3 | 9 | 7 |
Batting
2B:ARKANSAS, Rikki (1)
HR:BURROUGHS, Laurel (1)
Baserunning
SB:BURROUGHS, Laurel (1)
HBP:BROWER, Courtney (1); HILL, Alexis (1)
Fielding
E:SPARKS, Niya (1)