APSU Sports Information

Spartanburg, SC – Austin Peay State University men's golf team will wrap up its regular season, Monday and Tuesday, when it participates in the 27th Annual Coca-Cola Wofford Invitational, to be played at The Country Club of Spartanburg.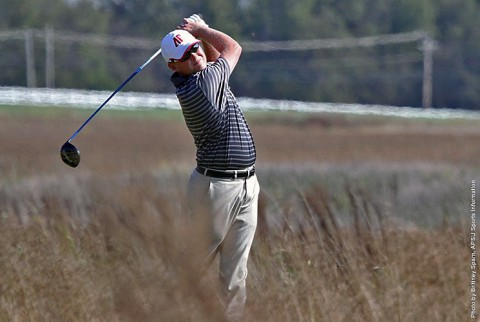 This will be APSU's last action before the Ohio Valley Conference tournament, April 24th-26th, at The Shoals on the Robert Trent Jones Golf Trail in Muscle Shoals, AL.
The Coca-Cola Wofford Invitational is a two-day, 54-hole event being played on a par-72, 6,648-yard layout that owns a 70.2 course and 124 slope rating.
The 14-team tourney will feature three schools, including Austin Peay, participating for the first time, while Furman will be playing for the 18th time.  Lamar, which will be playing for the second time, is the defending champion. Host Wofford has won it twice, including 2013.
The Govs enter the tournament coming off a seventh-place finish at Red Wolves Invitational. However, it was a tournament that produced a lot of hope for the Governors. It was an event that saw APSU get off to a sluggish first-round start that saw them sit in 12th place.
During the day's final round the Govs climbed all the way up into the Top 5 at one point before slipping back. It was a tourney that saw the team's No. 4 and No. 5 players, Justin Arens and Erik Hedberg, shoot 81 and 80, respectively, in the opening round but fight back to be 4-under between them over the final two rounds.
It also was a tournament that saw the Govs' top performer all year, Austin Kramer, struggle for the first time this season. But others stepped up to help offset Kramer's subpar performance.
"We have to give Austin a break for this last one," APSU coach Robbie Wilson said. "He has been consistently good all year. It shows the importance of putting four or five good scores together each round to in a tournament.
"It helps out if the team is confident in each other. It is experience. It is about doing it week in, week out and be prepared as we get closer and closer to the OVC. We are getting there."
APSU will use the same lineup as it did in Arkansas. Kramer and fellow junior Chris Baker will play in the top two spots while senior Tucker Wallace will be at No. 3 with Arens No. 4 and Hedberg No. 5. Junior Tyler Phillips will play as an individual.
"Nothing is entirely set (with the lineup)," Wilson said. "The No. 4 and 5 guys have been inconsistent but they have been working hard and they are coming each and every week. But last week helped—it helped their confidence. Justin and Erik played really well the last two rounds.
"But golf is a fickle game and they have to bring it week in and week out. But Justin and Erik are like that boxer who needs to get punched first. I explained to them they did well but explained to them we need them for all three rounds. It will be a good opportunity for everyone."
Video
Golf coach Robbie Wilson and the Govs will travel to Spartanburg, S.C., for the Coca-Cola Classic, hosted by Wofford.