Clarksville, TN – Everyone's favorite umbrella-wielding nanny is flying into Clarksville! Stephanie Hawkins stars in Disney and Cameron Mackintosh's "Mary Poppins" at the Roxy Regional Theatre, April 24th – May 23rd.
Based on the books by P.L. Travers and the classic Walt Disney film, this "practically perfect" musical delighted Broadway audiences for over 2,500 performances and received nominations for nine Olivier and seven Tony Awards, including Best Musical. Filled with timeless classics such as "Jolly Holiday," "Step in Time" and the Academy Award-winning "Chim-Chim Cher-ee," this show can only be described as "Supercalifragilisticexpialidocious!"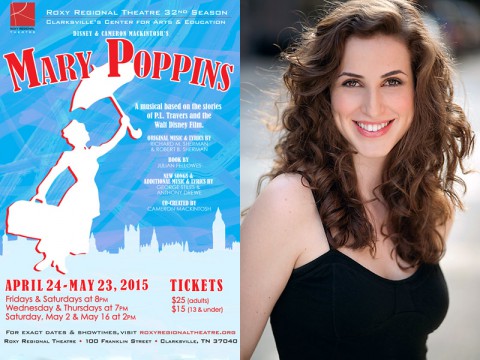 The first weekend of performances kicks off with a grand opening celebration on Saturday, April 25th, featuring champagne and conversation with stage legend Marge Lillard (making a cameo as the Bird Woman), immediately following the 8:00pm performance. Tickets are $40.00.
Directed and designed by Tom Thayer, with choreography by Philadelphia choreographer Jenn Rose, lighting design by Noel Rennerfeldt, flying effects by ZFX, costumes by Premiere Clothing and Debby Dowlen, hats by Blanche's Place, and sound sequencing by The MT Pit, "Mary Poppins" was co-created by Cameron Mackintosh and features original music and lyrics by Richard M. Sherman and Robert B. Sherman and book by Julian Fellowes, with new songs and additional music and lyrics by George Stiles and Anthony Drewe.
The cast also features Nate Miller and Riley Jenkins as Michael Banks, Kylan Elizabeth Ritchie and Virginia Richardson as Jane Banks, James Hansen as Bert, Brian Henry as Mr. George Banks, Laura Whittenberger as Mrs. Winifred Banks, Linda Ellis Cunningham as Mrs. Brill, Ryan Bowie as Robertson Ay, John McDonald as Admiral Boom and the Bank Chairman. Ben Darragh, Allison Ferebee, Stephanie Gray, Ryan Neal Green, Truman Jepson, Lauren Mund, Emily Rourke, Brittany Santos, Zak Schneider and Rebecca Sonia round out the cast, playing a multitude of characters in this enchanting mixture of irresistible story, unforgettable songs, breathtaking dance numbers, and astonishing stagecraft.
On Saturday, May 2nd and 16th, patrons are invited to attend a "High Tea with Mary" at 12:30pm, prior to the afternoon performance. Activities include magical kite making, photos with Mary and Bert, and lunch at Edward's Steakhouse, followed by the 2:00pm matinee. Tickets are $40.00.
"Mary Poppins" is made possible in part through the generous support of Senator Mark Green MD & Mrs. Camilla Green, Legends Bank, Agero, Charlie & Polly Olita, and Richview Family Dentistry. Additional funding support has been provided by Linda Ellis Cunningham, Walter & Cindy Marczak, David & Rita Keeton of Arcan Enterprises, Joseph & Nancye Britton, Dr. Ernest & Joan DeWald, Donna Ely, Dr. David & Janet Haase, James & Christa Holleman, Judy & Fred Landiss, and Starlene Sykes.
"Mary Poppins" runs April 24th through May 23rd, playing Wednesdays and Thursdays at 7:00pm and Fridays and Saturdays at 8:00pm, with 2:00pm matinees on Saturday, May 2nd and 16th.
Tickets are $25.00 (adults) and $15.00 (ages 13 and under) and may be purchased online at www.roxyregionaltheatre.org , by phone at 931.645.7699, or at the theatre during regular box office hours (9:00am to 2:00pm, Monday through Friday, and one hour prior to curtain).
Friday, April 24th, is the theatre's traditional pay-what-you-can preview; all tickets not pre-sold at the regular ticket price will go on sale at 7:30pm that evening for whatever price patrons wish to pay. Active-duty military, APSU students and CitySaver coupon holders can receive two tickets for the price of one to Wednesday and Thursday performances.
The Roxy Regional Theatre is located at 100 Franklin Street in Clarksville, TN.