Austin Peay Sports Information

Clarksville, TN – Austin Peay State University's baseball team opened its spring signing period by adding Alex Sala, of Germantown, to its 2016 roster.
Sala, a 6-0, 185-pound catcher, helped lead Houston High School to the Tennessee Class AAA State Championship game and a runner-up finish last season.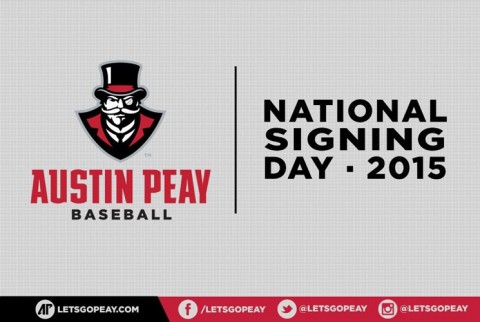 He batted .400 (4-for-10) in four state tournament games, finishing with six RBI.
Sala hit a two-run home run in an opening-round victory then a three-run home run in the game that sent Houston to the state title game.
"Alex is an outstanding young man who is a tremendous student and a very good player," said Governors head coach Gary McClure. "He is a very good catcher with a good understanding of the game. He already does a very good job of receiving the ball behind the plate and he blocks as well. We believe he is advanced enough defensively that he can help our team right away.
"Alex is a left-handed hitter who can really swing the bat and we feel like he has a chance to a middle of the order type guy in the future. He really loves to catch which is one of the things I like most about him because it is a very tough position and one that you must want to play to have success."
The left-handed hitting Sala was named to the Tennessee Baseball Coaches Association's Region 7/8 squad. He also represented Tennessee in the Border War Games in Atlanta.
Sala is the latest Houston High School product to join the Governors. Current volunteer assistant Greg Bachman was a 2007 graduate. In addition, former Governors Cody Hudson and Will Hogue came to Austin Peay after prepping at Houston High School.
Sala's signing also continues a recent run of high school players who spent time with the Dulins Dodgers travel squad. He was named to the WWBA All-Tournament squad last summer after batting .364 in the tournament.
"Alex comes from Houston High School, a perennial power that has always been one of the top programs in the state," McClure said. "He has played with the Dulins Dodgers travel team which is one of the elite travel teams in the country. Playing for those teams, he has played in atmospheres that have made it possible for him to have good coaching and be around other very good players which I believe plays an important role in the development of young players as well as preparing them for success in their future."
Sala is the fourth addition to the Austin Peay baseball roster in 2016. He joins infielder Parker Phillips, of Collierville; left-handed pitcher Austin Higginbotham, of Gainesville, Georgia; and left-handed pitcher Brett Newberg, of Moline, Illinois.