Austin Peay Sports Information

Clarksville, TN – A listless start left Austin Peay State University's baseball team a deficit to deep to recover from in a 9-4 Ohio Valley Conference loss to SIU Edwardsville, Friday night at Raymond C. Hand Park.
Austin Peay (23-24, 14-14 OVC) saw its first 10 batters retired consecutively and 12 of its first 13 as SIUE's P.J. Schuster cruised through the opening four innings.
Left fielder Cayce Bredlau had the Govs lone hit – a single with one out in the fourth – in that span.
Meanwhile, SIUE (17-25, 16-9 OVC) struck for five runs off Austin Peay starter Alex Robles – the most the Govs No. 1 starter had allowed in a game this season. Catcher Parker Guinn delivered the game's first two runs with his ninth home run this season.
Two innings later, Robles loaded the bases with a walk, a single and a hit batter only to see center fielder Denton Reed empty the bases with a triple for the 5-0 SIUE lead.
Austin Peay broke out of its listless start in the fifth as Robles reached on an error to start the inning. He would score on first baseman Dre Gleason's one-out single. The Govs cut the deficit to 5-3 in the sixth, Bredlau hitting a two-run home run to right.
The Govs had an opportunity to tie the game in the eighth inning. Bredlau opened the inning with a walk and scored when second baseman Garrett Copeland tripled off the padding in deep center field with one out. However, the Govs could not find a way to push Copeland home, trailing 5-4 after eight innings.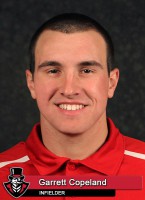 Austin Peay's bullpen could not hold the deficit to one run in the top of the ninth. The Govs used four pitchers in the frame and allowed a leadoff home run, three walks (two with the bases loaded), hit a batter and allowed a run via a wild pitch. After the dust settled the Govs again trailed by five runs, 9-4.
Austin Peay would threaten in the bottom of the ninth as the first three batters reached base to load the bags with no outs. But SIUE reliever Brett Thomas recovered from the leadoff walk he issued to strike out the next two batters and then induced a game-ending ground out.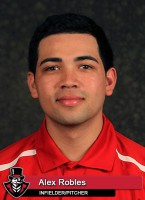 Robles (6-3) saw his six-game winning streak end after allowing five runs on eight hits and two walks in 7.1 innings.
Schuster (7-3) picked up the win after holding the Govs to four runs (three earned) on five hits in 7.1 innings.
Bredlau and Gleason each went 2-for-4 with two RBI to lead Austin Peay which finished with eight hits.
Denton, batting No. 9 in the order, led SIUE's 10-hit outing with a 2-for-4, three RBI outing.
Austin Peay and SIUE continue their three-game series with a scheduled 2:00pm, Saturday contest at Raymond C. Hand Park.
Box Score
SIU Edwardsville (17-25 / 16-9) -vs- Austin Peay (23-24 / 14-14)
| | 1 | 2 | 3 | 4 | 5 | 6 | 7 | 8 | 9 | R | H | E |
| --- | --- | --- | --- | --- | --- | --- | --- | --- | --- | --- | --- | --- |
| SIU Edwardsville Cougars | 0 | 2 | 0 | 3 | 0 | 0 | 0 | 0 | 4 | 9 | 10 | 1 |
| Austin Peay Governors | 0 | 0 | 0 | 0 | 1 | 2 | 0 | 1 | 0 | 4 | 8 | 0 |
W: SCHUSTER, P.J. (7-3)    L: ROBLES, Alex (6-3)
SIU Edwardsville 9
| | Player | AB | R | H | RBI | BB | SO | LOB |
| --- | --- | --- | --- | --- | --- | --- | --- | --- |
| lf | LOMBARDO, Nick | 5 | 1 | 1 | 0 | 0 | 0 | 1 |
| 2b | GREEN, Chase | 4 | 1 | 1 | 0 | 0 | 0 | 0 |
| dh | WRIGHT, Keaton | 4 | 0 | 1 | 0 | 0 | 0 | 1 |
| pr | FAGAN, Justin | 0 | 0 | 0 | 0 | 0 | 0 | 0 |
| ph | BOOK, Collin | 1 | 0 | 0 | 0 | 0 | 0 | 0 |
| 1b | SAIKAL, Alec | 4 | 1 | 1 | 0 | 1 | 0 | 0 |
| ss | GEISSINGER, Skyler | 3 | 2 | 1 | 0 | 2 | 2 | 0 |
| rf | WOODCOCK, Dustin | 2 | 1 | 1 | 1 | 3 | 1 | 0 |
| c | GUINN, Parker | 3 | 2 | 1 | 3 | 1 | 1 | 3 |
| 3b | STEWART, Jacob | 5 | 1 | 1 | 1 | 0 | 2 | 3 |
| cf | REED, Denton | 4 | 0 | 2 | 3 | 0 | 0 | 0 |
| p | SCHUSTER, P.J. | 0 | 0 | 0 | 0 | 0 | 0 | 0 |
| p | MALACH, Zach | 0 | 0 | 0 | 0 | 0 | 0 | 0 |
| p | THOMAS, Brett | 0 | 0 | 0 | 0 | 0 | 0 | 0 |
| | Totals | 35 | 9 | 10 | 8 | 7 | 6 | 8 |
Batting
2B:GREEN, Chase (1); GEISSINGER, Skyler (1)
3B:REED, Denton (1)
HR:GUINN, Parker (1); STEWART, Jacob (1)
Baserunning
SB:LOMBARDO, Nick (1)
CS:GUINN, Parker (1); REED, Denton (1)
HBP:GREEN, Chase (1); GUINN, Parker (1)
Fielding
E:STEWART, Jacob (1)
Austin Peay 4
| Position | Player | AB | R | H | RBI | BB | SO | LOB |
| --- | --- | --- | --- | --- | --- | --- | --- | --- |
| 3b/c | SMITH, Ridge | 5 | 1 | 1 | 0 | 0 | 1 | 0 |
| lf | BREDLAU, Cayce | 4 | 2 | 2 | 2 | 1 | 0 | 3 |
| 2b/3b | COPELAND, Garrett | 4 | 0 | 1 | 1 | 0 | 2 | 0 |
| rf | WILSON, Josh | 4 | 0 | 0 | 0 | 0 | 0 | 1 |
| p/dh | ROBLES, Alex | 4 | 1 | 1 | 0 | 0 | 0 | 1 |
| cf | HAMILTON, Chase | 4 | 0 | 1 | 0 | 0 | 0 | 1 |
| 1b | GLEASON, Dre | 4 | 0 | 2 | 1 | 0 | 0 | 0 |
| pr | BLACKBURN, Kyle | 0 | 0 | 0 | 0 | 0 | 0 | 0 |
| c | MARIK, T.J. | 2 | 0 | 0 | 0 | 0 | 1 | 0 |
| ph | MASSONI, Patrick | 1 | 0 | 0 | 0 | 0 | 0 | 0 |
| 2b | WILLIS, Imani | 0 | 0 | 0 | 0 | 1 | 0 | 0 |
| ss | SMITHSON, Clayton | 4 | 0 | 0 | 0 | 0 | 3 | 1 |
| p | GAURA, A.J. | 0 | 0 | 0 | 0 | 0 | 0 | 0 |
| p | PRIMASING, Levi | 0 | 0 | 0 | 0 | 0 | 0 | 0 |
| p | WALTON, Zach | 0 | 0 | 0 | 0 | 0 | 0 | 0 |
| p | LINDLEY, Hunter | 0 | 0 | 0 | 0 | 0 | 0 | 0 |
| p | KIMBEL, Keirce | 0 | 0 | 0 | 0 | 0 | 0 | 0 |
| | Totals | 36 | 4 | 8 | 4 | 2 | 7 | 7 |
Batting
2B:SMITH, Ridge (1); ROBLES, Alex (1)
3B:COPELAND, Garrett (1)
HR:BREDLAU, Cayce (1)