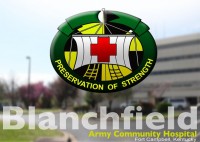 Fort Campbell, KY – Three faculty members from Meharry Medical College spent the morning Friday, May 29 at Blanchfield Army Community Hospital observing the areas where four of their medical students were participating in clinical rotations. Two Meharry students conducted rotations at BACH under General Surgery and two under OBGYN during the month of May.

Before conducting official tours and hearing from the surgeons and providers who spent time sharing their knowledge and allowing students to exercise their skills, the Dean for Academic and Clinical Affiliations at Meharry, Dr. Frank S. Royal, Jr., and BACH commander Dr. (Col.) George N. Appenzeller appropriately signed the formal Memorandum of Understanding between the two institutions using a camouflaged ink pen. Copies were signed for each to house within their own facility, displaying their renewed partnership.

Appenzeller elaborated how excited he was to reestablish old relationships and do something great for not only Fort Campbell's hospital, but also for the military and civilian community and providers. "There is nothing more exhilarating to doctors than have students that challenge you with things we don't see every day and they ask all the hard questions that make us go back to our textbooks and do the research."

Appenzeller spoke of how the relationship enables BACH to pursue more complex patients and better care for active duty Soldiers, Retirees and their families as well as giving BACH the opportunity to outreach to the community outside the gates of Fort Campbell.

"Those ties are so invaluable. The students here get to see the things in the civilian world that we don't get to see, so we learn as much as the students learn. It's just an incredible experience for all of us. I'm so excited to get this started back up again," said Appenzeller.

Royal told the BACH team that they are equally excited not only from the students standpoint but from his faculty's standpoint.  Many of Meharry's faculty and staff members are either retired military or still active in the Reserves. According to Royal, this relationship is special, knowing that we are investing in what they believe that is near and dear to their hearts.

"Roughly eight percent of our graduating class is commissioned into the Armed Services this past graduation. So not only are we seeing the influence from our faculty members, but we are seeing with members of our graduating classes who want to volunteer to serve in our Armed Services, so we look forward to a long, wonderful relationship with you all," said Royal.

After the signing, Meharry Medical College representatives Dr. Royal, Dr. Susanne Tropez-Sims and Dr. Saletta Holloway were introduced to the chief of Women's Health Dr. (Lt. Col.) Marshal Malinowski. Malinowski shared the Women's Health concept of care as he provided a brief tour of his renovated third-floor wing within the hospital that offers patient-centered group practice rooms for their providers to collaborate and a Centering Room for moms, with like gestational periods, to share appointments and time learning from one another throughout their pregnancy.

Later the team toured the General Surgery clinic where Army surgeon Dr. (Maj.) Ryan Lehmann shared what his two assigned-Meharry students observed and practiced while under his mentorship.

Lehmann stated he feels that it is very important to give back to these students and because of the way Blanchfield's hospital is set up. He believes the student-to-mentor relationship allows a one-on-one relationship, which is invaluable.

"In just a matter of weeks for the students we have now, I noticed their suturing skills rapidly improved and they were diligent about looking up information. If you asked them something the next day, they had the answer. Our first medical students were just excellent," said Lehmann.

Lehmann understands the value of mentoring medical students. "You have to ensure that you train the people who are going to be taking over for you or potentially working with you in the future. The whole process keeps you sharp and helps continue your own medical education in a more robust fashion than sitting and reading."

Dr. (Capt.) Steven S. Hong, Otolaryngology head and neck surgeon, echoed Lehmann's remarks. "We are enthusiastic and very happy to have these students come and challenge us so that we can challenge them as well and keep growing together."

Lehmann believes BACH has distinctiveness to offer Meharry students. "The most unique thing we give these students is hands-on experience where they are actually able to assist somewhat in surgery besides just cut and suture or retracting. They are able to get more nuances. We are able to provide things you just wouldn't necessarily get as a student swimming in a sea of residents and interns. That is the unique thing we do."

Hong is excited to see that Meharry medical students are observing and learning from providers offering topnotch subspecialties. "We offer here several different world-class subspecialties. We have ophthalmology, ENT, orthopedics, urology, anesthesia … there is a whole plethora of subspecialties for the students to choose from."

Hong feels that from an Army perspective, it is important to have medical students rotate in an Army Medicine facility since they may in the future think about a career in the military or at least serving veterans. "For the hospital, that is a critical mission – to have these students exposed to the fact that we have the best patient population. In the future, if they decide to work in a Veteran's Administration or military facility that would be monumental for us."

Dr. Royal commented after being asked if the facility and organization was anything like he expected. He quickly replied, "It was better than I expected. I expected a lot and I got more. To have a wonderfully outfitted facility from the standpoint of equipment and more importantly with the people who are serving this facility, I know that our students at Meharry are in good hands."

Royal stated that the overall goal as their students rotate with different facilities is for students to broaden their experience. "Our students at Meharry and Metro General Hospital, which is on the Meharry campus, get a wonderful clinical experience but to enhance that by interacting with clinicians that have trained in different genres, it is wonderful for them to broaden their experience and increase and build upon the experience."

Royal explained that outside partnerships enable Meharry students to build upon the foundation with their home school as they extend their clinical rotations to different genres.

"To go roughly 50 miles away and to learn from people who have either trained in the military or are trained by a civilian institution but are now working in the military, it just broadens the experience of our students and we look to having the ability to rekindle this experience, which we are now, but to grow on that experience and that relationship in the future."

"This partnership provides an absolute opportunity to impact the future, not only in the lives of our students, but of both organizations and within our community," said Appenzeller.



Sections
News
Topics
Bach, Blanchfield Army Community Hospital, Fort Campbell KY, Frank S. Royal Jr., George N. Appenzeller, Marshal Malinowski, Meharry Medical College, Metro General Hospital, Ryan Lehmann, Saletta Holloway, Steven S. Hong, Susanne Tropez-Sims