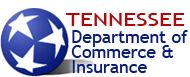 Nashville, TN – Your phone rings, you check the caller's number and discover the number dialing your phone belongs to you.
This unusual scenario isn't your phone's fault. Instead, it's a ploy known as ID Spoofing, and it's a trick perpetrated by criminals using Caller ID cloaking technology to mask their real phone numbers.
After disguising their real numbers, scammers can cause a consumer's own phone number (or the phone number of a loved one) to appear on your phone's Caller ID.
When an unsuspecting consumer answers the phone, the scammers will then attempt to defraud consumers with a host of schemes (card services scams, medical alert device scams, among others) all designed to cheat consumers.
"ID Spoofing deceives consumers into unwittingly answering a phone call that they might not normally answer," said Tennessee Department of Commerce and Insurance (TDCI) Deputy Commissioner Bill Giannini. "Scammers can use ID Spoofing to gain access to consumers' valuable personal information and financial data."
Unfortunately, adding a phone number to the National Do Not Call Registry won't protect consumers from scammers who are willing to break the law. TDCI's Division of Consumer Affairs wants consumers to be informed of ID Spoofing and ways to protect themselves from ID Spoofing scams.
Don't answer the phone if your number shows up on your phone's Caller ID.
Don't attempt to call the number back, and do not press any buttons if prompted.
If you do answer the call, don't give out your personal or financial information. Never give your personal information over the phone to someone you don't know.
If you believe you're the victim of an ID Spoofing scam, call TDCI's Division of Consumer Affairs at 615.741.4737 or go online here and file a complaint.
If you lost money on a scam as a result of ID Spoofing, immediately report the theft to your local police or sheriff's department.