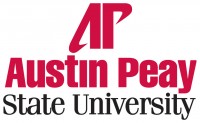 Clarksville, TN – Earlier this year, Wayne Ard, president of Ard Construction, met Austin Peay State University President Alisa White for breakfast at a local restaurant. The conversation that morning quickly turned to Ard's wife, Marianne, who passed away a few months earlier in December 2014.
"My wife was an education freak," Ard told President White. "She felt that every high school student should have a college education. She said that education was something you can't get too much of. So today, in Marianne's honor, I'll make a pledge to you."
Ard pledged a major financial gift to the University, which will fund, in Marianne's name, several scholarships for generations of deserving APSU students.
In recognition of this extreme generosity, White announced that Austin Peay's new student health services building will be named the Wayne and Marianne Ard Building. The Tennessee Board of Regents approved the name earlier this summer.
"For several decades, the Ards have been great friends of this University, and I'm honored that Wayne has chosen to honor his late wife, Marianne, in this way," White said. "Their love and generosity will be a part of the spirit of this building, which will be a place of healing for many of our students."
The Wayne and Marianne Ard Building will occupy a prominent location on the APSU campus, in the former Church of Christ Student Center at the corner of University Avenue and College street. Austin Peay purchased the building last year, and the University plans to move health services and counseling services into the newly renovated space next fall.
"They (the Ards) both have been generous supporters of Austin Peay State University and many other charitable endeavors in this community," Fred Landiss, a longtime friend of the Ards, said. "Marianne was very unassuming, and I am sure that she would not relish the attention she is getting, but I know that she would be pleased that Wayne and her family are continuing to support Austin Peay with this gift."
In 1989, when the University needed $60,000 to fund a Chair of Excellence in business, Ard Construction announced it would build a house in the St. Bethlehem community and donate the profits from the sale to the APSU Foundation.
"We sincerely thank Wayne Ard for this unique gift to the university," then-President Oscar Page said in a February 8th, 1989 issue of The All State, APSU's student newspaper.
In 1990 and 1991, Marianne served as co-chair of the APSU Candlelight Ball Committee. Along with chair Judy Landiss, she helped raise $25,000 that year to bring the famous General Jackson Showboat to Clarksville.
"However, they were faced with one major problem; flooding on the Cumberland River would prevent to General Jackson from being able to maneuver under the bridge at Ashland City," Fred Landiss, Judy's husband, said. "They had to notify the 325 ball goers of the last minute cancellation and reschedule the event—an ordeal that would make them even greater friends for another nearly 30 years."
Landiss and other friends will be able to recall fond memories of the couple's generosity, including the great parties the Ards hosted, whenever they pass the building on College Street.
"We miss Marianne, but her legacy of the giving of her time, talent and resources continues," Landiss said.
A special naming ceremony, honoring the Ards, will take place at the site next spring. Details about that event will be announced at a later date.