TDCI Cautions Consumers About Private Companies Charging To Complete Paperwork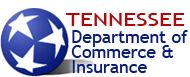 Nashville, TN – The paperwork may appear as if it comes from a government agency, but the solicitations that are landing in mailboxes across Tennessee are from private companies angling to charge whopping prices to consumers for relatively inexpensive state services.
The Tennessee Department of Commerce and Insurance (TDCI)'s Consumer Affairs Division joins the Tennessee Secretary of State and the Better Business Bureau of Middle Tennessee with a statewide alert about companies misleading consumers when it comes to filing state paperwork on their behalf.
"Consumers who receive one of these letters should contact the Division of Consumer Affairs or our partners at the Secretary of State's office," said TDCI Deputy Commissioner Bill Giannini.  "You don't have to pay someone else a big fee to file simple paperwork."
Various companies are sending letters offering to obtain business filings, corporate certificates of good standing and certified copies of deeds for homeowners. These solicitations would charge consumers upwards of $150.00 for these services and (in at least one instance) ask provide credit card information.
In Tennessee, a corporation's annual report can be filed for $20.00. Costs for filing other documents vary. (A list of the For Profit Corporation Fee Schedule is listed here.) Local register of deeds often only charge per page for copies of property records, which are typically under $10.00.
"We are committed to ridding Tennessee of unscrupulous operators posing as legitimate businesses," said TDCI Deputy Commissioner Bill Giannini. "We appreciate the collaboration and assistance of the Secretary of State and the BBB in identifying these entities. We will continue to make Tennesseans aware of these deceptive business practices through consumer alerts and outreach efforts."
For more information, visit the BBB's list of "Misleading Advertising, Products and Services Middle Tennessee Consumers and Businesses Can Do Without."
The Division of Business Services maintains a user-friendly online tool to obtain a Certificate of Existence. It can be found at: https://tnbear.tn.gov/Ecommerce/CertOfExistenceInstr.aspx
To contact Consumer Affairs with a question, call 615.741.4737 or send us an email.
About the Tennessee Department of Commerce & Insurance
The Tennessee Department of Commerce & Insurance (TDCI) is charged with protecting the interests of consumers while providing fair, efficient oversight and a level field of competition for a broad array of industries and professionals doing business in Tennessee.
Our divisions include the Athletic Commission, Consumer Affairs, Tennessee Corrections Institute, Emergency Communications Board, Fire Prevention, Insurance,  Tennessee Law Enforcement Training Academy, Peace Officers Standards and Training, Regulatory Boards, Securities, and TennCare Oversight.