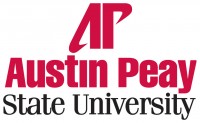 Clarksville, TN – "I know I have a long ways to go and a lot to learn, but the help is definitely here."
When the United States and its allies need help, our soldiers answer the call. But when those same men and women need a hand, programs like the Montgomery County Veterans Treatment Court (VTC) exist to make sure they are not alone.
Established in 2012, the court aims to help veterans who come to the criminal justice system as a result of drug addictions, homelessness and other situations brought on by wartime stress.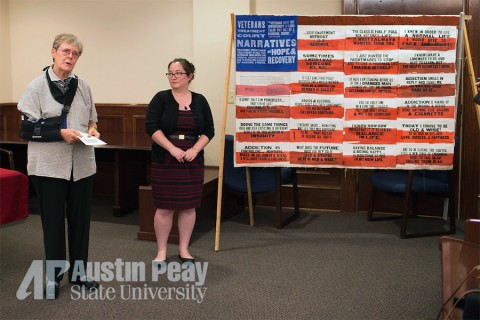 Active duty soldiers and veterans diagnosed with post traumatic stress disorder (PTSD) or a traumatic brain injury who complete the program can possibly have their case dismissed.
On August 12th, the VTC program celebrated another graduating class of enrollees during a ceremony at the Montgomery County Courthouse, and Austin Peay State University was there to show its support through a unique artistic project, dubbed "Narratives of Hope & Recovery."
As a part of the program, VTC enrollees write essays reflecting on their struggles adjusting to civilian life. With the aid of Montgomery County judge — and VTC team member — Ken Goble, students from APSU art professor Cindy Marsh's printmaking class used many of those essays to create a project that visualized what is, for many soldiers, a private battle.
"I teach a printing class and we were looking for a way to work on a community project when (AmeriCorp VISTA member) Katelan Shartzer told us about the VTC," Marsh said. "After talking to judge Goble, we were able to get a hold of previous essays that we used to create a project with our Goldsmith Press."
The Goldsmith Press is a unique letterpress facility that includes thousands of hand-carved wood letters, typesetting materials and antique printing presses. The wood type was originally created for a New England advertising company, Metropolitan Showprint (est. 1890).
Taking statements from each essay, Marsh's students used the Goldsmith Press to create typeset prints. Over 20 unique statements came together to form a mural in the shape of the United States flag – a visual metaphor of the nation these veterans sacrificed to support.
"Our students read each essay and were able to gleam a real moment of truth from each of them," Marsh said. "And with around 40 percent of my class having some connection to the military, (a flag) seemed like the perfect metaphor to use to talk about what our veterans are experiencing."
A student in Marsh's class and the wife of an active-duty soldier, Macon St. Hilaire was present alongside her professor at the event. Through the production of the piece, St. Hilaire said, she was able to make a commentary on the challenges of military life for both soldier and family.
"For me and the challenges that my husband and I have faced as a (military couple), I was happy that this project gave us a chance to have a voice," St. Hilaire said. "And I appreciate that programs like VTC exist as a way to support soldiers and help us find the strength to get through all of the challenges they face."
For more information on the Goldsmith Press, contact the APSU Department of Art at 931.221.7333, or email Cindy Marsh at .
For more information on the Montgomery County Veterans Treatment Court, call 931.648.5766.