First Tennessee Park Sells Out For 18th Time This Season, Hosts 10,675 Fans
Nashville, TN – Joey Wendle left his mark all over Friday night's contest at sold-out First Tennessee Park and guided Nashville to a 5-1 victory over Albuquerque.
Wendle entered Friday's game tied atop the PCL leaderboard with 142 hits and added to the total with a three-hit evening. The second baseman caused all sorts of trouble for Albuquerque at the plate and added an over-the-shoulder snag that started an inning-ending double play in the first as well.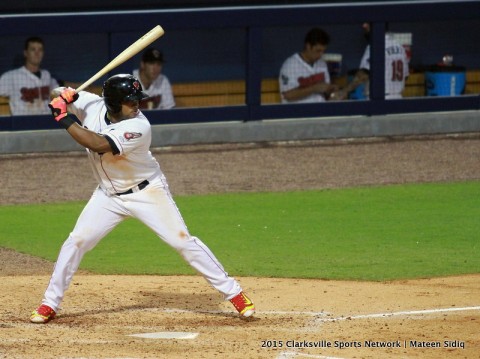 The 24-year-old helped tie things at 1-1 in the third, slapping a ball to right and sneaking into second base with his 35th double of the season. Jason Pridie would collect his 77th RBI later in the frame by grounding out to first.
The pair caused more havoc for the Isotopes in the fifth inning as well. After Wendle singled with one away, Pridie took a 1-0 pitch from Boone Whiting and deposited the ball into the four-top table section in right field. The two-run shot was Pridie's 17th long ball of the season and gave Nashville a 3-1 advantage. The offensive cushion aided Sean Nolin in his quick start.
Nolin was making his second start for the Sounds since coming off the disabled list on August 15th. The lefty continued his pursuit to regain game form, throwing three innings and allowing a solo home run to Tom Murphy in the second. In total, Nolin tossed 43 pitches and struck out one in the no-decision.
After a rain out on Wednesday and two lengthy starts during Thursday's doubleheader, the Nashville bullpen was well-rested for Friday. Arnold Leon matched Nolin's three innings with the same output, scattering one hit and earning his second win of the season. Ryan Dull continued his impressive start to Triple-A, mowing through a pair of frames in order. R.J. Alvarez managed the ninth inning and closed out the win with ease.
The home team tacked on two additional tallies in the seventh. Max Muncy got in on the fun and smoked an inside fastball to the top of the wall in right field. The ball came within feet of landing in the Charles Pittman Fan Zone but instead went for a two-run double that plated Pridie and Rangel Ravelo.
The crowd of 10,675 marked the 18th sell out of First Tennessee Park this season. In all, a total of 523,951 fans have made their way inside the park during the initial season.
The two teams conclude their four-game series on Saturday night at First Tennessee Park. Nathan Long (3-4, 5.73) and Aaron Laffey (3-3, 4.54) will duel in the series finale as Nashville seeks to take three of four from Albuquerque for the second straight season.