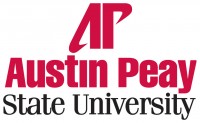 Clarksville, TN – The sounds of iron being lifted, feet pounding the track and athletes pushing themselves past their limit filled the air on August 1st, as nearly two-dozen teams converged on the campus of Austin Peay State University for the inaugural Governors Games Powered by CrossFit Clarksville.
While teams of four competed for top honors, the real goal was to honor APSU and the Clarksville community's military alumni, soldiers and families from Fort Campbell.
In addition to honoring our own "Governors Warriors" throughout the day, proceeds from the event will help fund the APSU Military Scholarship Endowment.
The winning squad was Team Superfriends, made up of two athletes from CrossFit Solafide in Clarksville, Amy Lackner and Matt Buehrle, as well as two members of CrossFit O'Fallon in St. Peters, MO, Matt Greene and Katy Greene.
A Clarksville CrossFit squad, Team Sink or Snatch, took second place overall. The group was comprised of Tim Palmer, Cody Omilusik, Kaci Clark and Keira Kohls.
The Governors Games Powered by CrossFit Clarksville would like to thank its generous sponsors, including Agero, Danell Welch Construction, Escape Velocity, Chipotle, Results Physiotherapy, Wodlife, One Hour Heating & Air Conditioning, Iron Ink Fine Design And Print Co., STAR Physical Therapy and many others.
"Without the top down and continuous support from Austin Peay State University, CrossFit Clarksville (CFC) wouldn't have had this unique opportunity to showcase the incredible people that make up our membership," CrossFit Clarksville co-owner Reagan Prather said. "CFC looks forward to working with the incredible staff and leadership of APSU again in the future."
For more information on APSU Alumni Relations events, visit www.apsu.edu/alumni , or call at 931.221.7979.
For more information on CrossFit Clarksville, visit www.crossfitclarksville.com