Tanner Peters Throws 1.2 Scoreless in Triple-A Debut
Tacoma, WA – Nashville built an early 3-0 lead, but Tacoma stormed back scoring eight unanswered runs to defeat the Sounds at Cheney Stadium on Friday night.
After Ryan Roberts doubled, Jason Pridie gave the Sounds an early 2-0 lead, driving in the veteran utility man and infielder Joey Wendle. Wendle keyed another rally in his next at bat, hitting his 38th double of the season and then coming around to score on a Brent Morel single. The hits came off rehabbing Seattle Mariners starter James Paxton.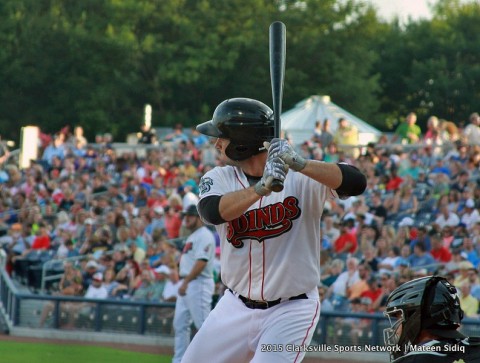 The 3-0 lead did not hold for long, as Tacoma exploded for five runs in the bottom of the third. The two batters reached base off Sounds' starter Nate Long before James Jones singled to right field to score the Rainiers catcher Steve Baron.
The home team then put on a double steal, with Jones taking second and Shawn O'Malley waiting for Carson Blair to throw to second before taking off for the plate and stealing home.
It appeared Long and the Sounds would limit the damage and consequently retain the lead, but the right-hander was tagged for back-to-back home runs by Jabari Blash and Patrick Kivlehan with two outs in the frame. Blash would add another RBI off Long in the fifth via a sacrifice fly. The Sounds' starter pitched into the sixth, throwing 110 pitches in a losing effort. He was tagged for seven runs on 10 hits, he struck out four.
Pitcher Tanner Peters made his Triple-A debut, entering the game with Blash on third with one out in the seventh. His first opponent, Ji-Man Choi, refused to welcome the right-hander with open arms, doubling to make the score 8-3, the run was charged to Aaron Kurcz. Peters would see the minimum the rest of the way, posting a scoreless outing over 1 2/3 innings.
Nashville will play two more games in Tacoma before returning home to Nashville for their final homestand of the 2015 season on Monday.  The visitors will send Zach Neal (7-9, 3.94) to the mound tomorrow to face Adrian Samson (2-3, 6.91). First pitch is scheduled for 9:05pm.