Austin Peay Sports Information

Clarksville, TN – A different Austin Peay State University running back hit the century mark, but the Governors fell behind early and never recovered, falling 44-14 to UT Martin, Saturday.
For the Governors (0-7, 0-4 Ohio Valley Conference), a continually improving running game was overshadowed by a subpar passing day and two blocked kicks (one field goal attempt, one punt), including one returned 87 yards for a UT Martin (4-2, 3-1 OVC) touchdown.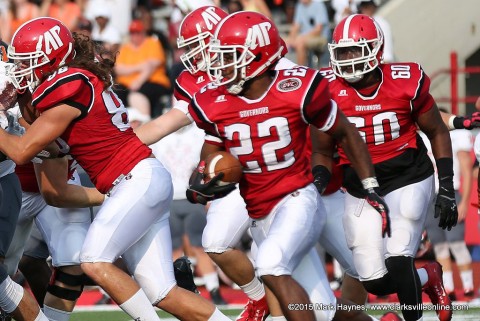 The Skyhawks, meanwhile, clinched the Alvin C. York Trophy for the second season in a row after sweeping the Governors, Tennessee State and Tennessee Tech in the quadrangular season series.
UT Martin sliced through the Governor defense on the game's opening drive, needing just four plays and 1:48 to march 75 yards, with Jarod Neal finding Caylon Weathers from 22 yards out for the opening score. After an Austin Peay three-and-out, the Skyhawks went 77 yards in eight plays for their next score, with Trent Garland punching it in from five yards out.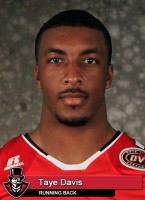 Down two scores, Austin Peay mounted a 16-play, 70-yard drive led by some bruising rushing from freshman Taye Davis, who carried six carries for 20 yards and caught a pass for 16 more. Austin Peay drove inside the UT Martin 10-yard line before the drive stalled.
Out trotted Logan Birchfield for the field-goal attempt, but Tae Martin leaped high in the air to bat the ball down. Jordan Landry scooped it up and raced 87 yards for the score, making it 21-0 Skyhawks at the end of the first quarter. For Martin, it was his second blocked field goal in as many weeks.
The Governors mounted another long drive to start the second quarter, and this time it paid off. Julian Franklin took the handoff around the left side and raced 37 yards for his first career touchdown, part of a career day for the Fairview, TN native that included his first 100-yard rushing performance (102 on 16 carries) and the 37-yard carry represented his career long.
Garland found pay dirt again in the second quarter, this time from three yards out, and Jackson Redditt nailed the first of three field goal attempts, from 32 yards—he would later add makes from 31 and 29 yards in the second half—as the Skyhawks entered the break with a 31-7 advantage.
UT Martin had another opportunity for a late second-quarter score, blocking an Evan Toby punt, but the Skyhawks attempted lateral was recovered by the Governors, who knelt the ball to end the quarter.
Again Timarious Mitchell entered in the second half and provided a spark for the Governors. In the fourth quarter, the Memphis TN native hit Jared Beard from 20 yards out for a score, his first passing touchdown since November 16th, 2013.
Late in the contest, UT Martin's Jaimiee Bowe scored from 17 yards out for the Skyhawks final tally. Four Skyhawks – Bowe (50 yards), Najee Ray (48), Garland (47) and Ladevin Fair (46) combined for 27 carries, 191 yards and three scores to pace the Skyhawk ground game.
The Difference
Neal put together a 15-for-25, 209-yard day for the Skyhawks before exiting in the fourth quarter, adding 23 yards on four rushes for good measure. The Governors passing duo of Mitchell and starter Trey Taylor combined to go 11-for-25 for 109 yards and 11 carries for 38 yards, the second time in three games Austin Peay failed to hit at a 50 percent completion rate as a team.
"We thought they were doing a good job breaking us down coverage-wise. They throwing to the right people on the right routes to get others open. (Our DBs) never like to see the ball go over their head; we had a corner who stumbled on a turn and had one later on that didn't go for a touch but went big. Those are good ways to get beat solidly. As a team, we haven't been giving up huge passes over the top today but we had to take some chances to put some pressure on them or we were gonna be in more man coverage than we normally play. There were some good plays and some bad plays on that," stated APSU Football Head coach Kirby Cannon.
Up Next for the Governors
Likely to be voted the nation's top team again in the FCS Media Poll, Jacksonville State comes into Clarksville likely to be undefeated, leading Tennessee Tech 35-6 late in the fourth quarter at press time. It will be Homecoming 2015 for Austin Peay, which seeks its first Homecoming victory since 2008 and its first win against the Gamecocks since 1979.
Austin Peay takes on Jacksonville State at Governors Stadium Saturday, October 24th at 4:00pm.
Box Score
UT Martin (4-2 , 3-1) -VS- Austin Peay (0-7 , 0-4)
| Team | 1st | 2nd | 3rd | 4th | Total |
| --- | --- | --- | --- | --- | --- |
| UT Martin | 21 | 10 | 3 | 10 | 44 |
| Austin Peay | 0 | 7 | 0 | 7 | 14 |
Scoring Summary
| | Time | Scoring Play | UTM | APSU |
| --- | --- | --- | --- | --- |
| 1st | 13:12 | UTM – WEATHERS, Caylo 22 yd pass from NEAL, Jarod (REDDITT, Jackso kick ) 4 plays, 75 yards, TOP 1:48 | 7 | 0 |
| 1st | 07:25 | UTM – GARLAND, Trent 5 yd run (REDDITT, Jackso kick ), 8 plays, 77 yards, TOP 4:15 | 14 | 0 |
| 1st | 00:00 | UTM – LANDRY, Jordan 87 yd blocked field goal return (REDDITT, Jackso kick ) | 21 | 0 |
| 2nd | 11:16 | APSU – FRANKLIN,Julia 37 yd run (BIRCHFIELD,Loga kick ), 7 plays, 75 yards, TOP 0:00 | 21 | 7 |
| 2nd | 05:03 | UTM – REDDITT, Jackso 32 yd field goal 9 plays, 52 yards, TOP 2:51 | 24 | 7 |
| 2nd | 02:28 | UTM – GARLAND, Trent 3 yd run (REDDITT, Jackso kick ), 4 plays, 55 yards, TOP 0:49 | 31 | 7 |
| 3rd | 02:40 | UTM – REDDITT, Jackso 31 yd field goal 7 plays, 41 yards, TOP 2:58 | 34 | 7 |
| 4th | 13:10 | APSU – BEARD,Jared 20 yd pass from MITCHELL,Timar (BIRCHFIELD,Loga kick ) 9 plays, 77 yards, TOP 4:24 | 34 | 14 |
| 4th | 09:20 | UTM – REDDITT, Jackso 29 yd field goal 8 plays, 59 yards, TOP 3:44 | 37 | 14 |
| 4th | 01:36 | UTM – BOWE, Jaimiee 17 yd run (REDDITT, Jackso kick ), 5 plays, 39 yards, TOP 2:13 | 44 | 14 |
| | | | 44 | 14 |
Team Statistics
UTM
APSU
First Downs
Total
24
16
Rushing
10
9
Passing
12
7
Penalty
2
0
Rushing
Total (Net)
210
187
Attempts
32
46
Avg. Per Rush
6.6
4.1
Rushing TDs
3
1
Yds. Gained
224
218
Yds. Lost
14
31
Passing
Total (Net)
233
109
Comp.-Att.-Int.
18-28-0
11-25-0
Avg. / Att.
8.3
4.4
Avg. / Comp.
12.9
9.9
TDs
1
1
Total Offense
Yards
443
296
Plays
60
71
Avg. / Play
7.4
4.2
Fumbles – Lost
2-1
0-0
Penalties – Yds.
4-30
5-47
Punting
Punts – Yds.
3-128
8-269
Avg. / Punt
42.7
33.6
Inside 20
0
1
50+ Yds.
1
0
Touchbacks
0
0
Fair Catch
0
3
Kickoffs
Total – Yds.
9-504
3-171
Avg. Yds. / Kickoff
56.0
57.0
Touchbacks
4
1
Returns
Punt: Total – Yds. – TDs
2-33-0
1-10-0
Punt: Avg. / Return
16.5
10.0
Kickoff: Total – Yds. – TDs
2-22-0
3-46-0
Kickoff: Avg. / Return
11.0
15.3
INT: Total – Yds. – TDs
0-0-0
0-0-0
Fumble: Total – Yds. – TDs
0-0-1
0-0-0
Miscellaneous
Misc. Yards
93
0
Poss. Time
28:20
31:40
3rd. Down Conv.
2 of 9
4 of 17
4th. Down Conversions
0 of 0
2 of 4
Red-Zone: Scores – Chances
6-7
1-2
Sacks: Total – Yds.
1-7
1-4
PAT: Total – Made
5-5
2-2
Field Goals: Total – Made
3-4
0-1