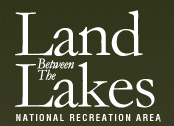 Land Between the Lakes, KY/TN – A young bald eagle was released back into the wild Saturday, October 10th, 2015, at Land Between The Lakes National Recreation Area near Duncan Lake.

Forest Service volunteer eagle nest monitor, Ray Stainfield, found the young eagle out of its nest during routine eagle nest monitoring in June. Ray noticed a stick hidden under its left wing. The eagle's breast had begun to grow around the stick and required treatment.

Following rehabilitation with Eileen Wicker's staff at Raptor Rehabilitation of Kentucky, a volunteer for the center released the eagle. After a short flight and a rest in a nearby tree, the eagle took to the skies.

Land Between The Lakes National Recreation Area manages more than 170,000 acres in western Kentucky and Tennessee as part of the U.S. Forest Service and the Department of Agriculture's public lands program. Land Between The Lakes offers outdoor recreation, lake access, land management, and environmental education to over 1.4 million visitors annually. The Friends of Land Between The Lakes works in partnership with the Forest Service providing program services, funds development, and volunteer support.

To find more information about Land Between The Lakes, log on to the official website at www.landbetweenthelakes.us or call toll-free at 1.800.LBL.7077 or local at 270.924.2000. For more information on the Friends of Land Between The Lakes, log on to www.friendsoflbl.org.

To subscribe to the official electronic newsletter, send an email to . Land Between The Lakes official Twitter accounts include @LBLScreechOwl, @LBLNature, @LBLHomeplace, and @LandBtwnLakes, and Pinterest www.pinterest.com/lblnra.

USDA is an equal opportunity provider, employer, and lender.



Sections
News
Topics
Bald Eagle, Friends of LBL, Kentucky, Land Between the Lakes, Land Between the Lakes National Recreation Area, LBL, Tennessee, U.S. Department of Agriculture, U.S. Forest Service, USDA