Austin Peay Sports Information

Nashville, TN – With nearly every contributor returning from a year ago, under the watchful eye of new head coach David Midlick, Austin Peay State University women's basketball was picked to finish eighth in the 2015-16 Ohio Valley Conference preseason poll, as voted by the conference's head coaches and sports information directors, at Tuesday's OVC Media Days.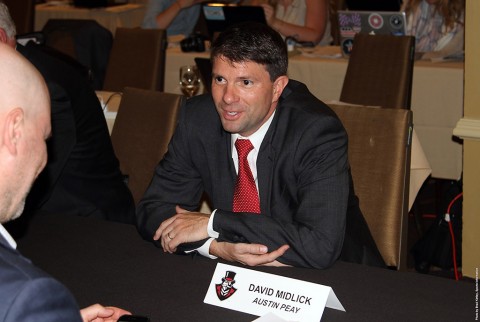 Additionally, senior guard
Tiasha Gray
was selected to the preseason All-Conference team. Gray—who was tabbed as preseason OVC Player of the Year by the OVC's media panel and by CollegeSportsMadness.com — earned preseason accolades for the second year in a row.
Any votes Gray garnered for preseason POY were certainly well-deserved. Her 2014-15 campaign saw her emerge as one of the conference's best players, earning Austin Peay's first-ever Defensive Player of the Year honor thanks to a school-record 110 steals, a figure that ranked second nationally per game (3.67).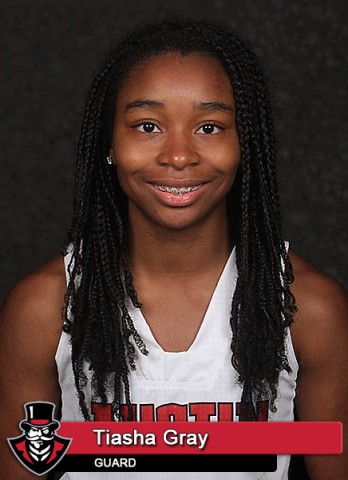 She wasn't too shabby offensively either, ranking 15th nationally in scoring (21.2 ppg) and 23rd in assists (5.7 apg). She opened the season with a career-best 37 points against Wright State and stayed hot from there, reaching double digits in 28 of 30 contests, including 20 points 11 times and 30 points on eight occasions.
In the team poll, Austin Peay finished eighth with 109 points, with Morehead State garnering two more points for a seventh-place finish. SIU Edwardsville and UT Martin got 10 first-place votes each, with the Cougars (226 points) edging the Skyhawks (213) for the top spot in the poll.
"It's good for the fans to look at that but we've got to work on getting better every day," said head coach David Midlick. "That sounds like coach-speak, but I don't want them to get too far ahead and I don't want them to look behind if we have a poor practice. Whether you're picked first or picked 12th, you'll have a chance to prove it over the next four months."
Belmont (three first-place votes, 202 points), Jacksonville State (176 points) and Tennessee State (one first-place vote, 168 points) rounded out the preseason top-five. Eastern Kentucky (122 points) was sixth, followed by Morehead State and Austin Peay, with Eastern Illinois (88), Murray State (71), Tennessee Tech (62) and Southeast Missouri (33) taking the bottom four spots.
SIU Edwardsville's Shronda Butts earned preseason Player of the Year honors from the conference coaches and SID's.
Beginning with its lone exhibition, November 5th against Kentucky Wesleyan, Austin Peay will be at home for its first four contests. After the exhibition contest against the Panthers, the Lady Govs host Cal (November 13th), Christian Brothers (November 14th) and Trevecca (November 16th) before embarking on a five-game road trip that includes a visit to Vanderbilt's Thanksgiving Classic, November 27th-28th.
"It's a crazy non-conference schedule in November, but I think the team's going to like it," Midlick said. "We won't be practicing, we'll be getting to play. As a player, when you get to play, rest a day and scout, then go play again and you don't have coach shouting at you in practice, I think they'll be excited about it. We're going to use those games to get us ready for early January."
Video
Head coach David Midlick at his first OVC Media Day as APSU head coach.
2015-16 OVC Women's Basketball Predicted Order of Finish
(Selected by OVC Head Basketball Coaches and Sports Information Directors)
Order of Finish                              Points
 1. SIUE (10 first-place votes)               226
 2. UT Martin (10 first-place votes)          213
 3. Belmont (Three first-place votes)         202
 4. Jacksonville State                        176
 5. Tennessee State (One first-place vote)    168
 6. Eastern Kentucky                          122
 7. Morehead State                            111
 8. Austin Peay                               109
 9. Eastern Illinois                           88
10. Murray State                               71
11. Tennessee Tech                             62
12. Southeast Missouri                         33

(*Schools were not allowed to rank their own team. 11 points awarded for a first-place vote, 10 for second, etc.)