Austin Peay Sports Information

Clarksville, TN – Squaring off against the nation's top team is a learning experience for any team, especially one filled with freshmen and sophomores, such as the Austin Peay State University football team.
So consider Saturday a learning experience for the Governors, who were handed a 27-7 loss by top-ranked Jacksonville State on Homecoming at Governors Stadium.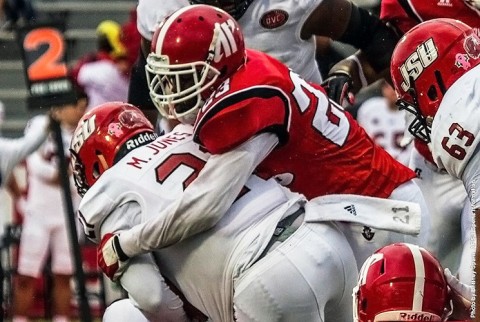 Austin Peay (0-8, 0-5 OVC) struggled throughout on offense, finishing with 82 yards total offense—it's first sub-100 yard total offense outing since November 9th, 2013 against Tennessee State.
The Gamecocks (6-1, 4-0 OVC) were able to stymie the Governors offense and were led by an 18-for-26, 189-yard performance from reigning Ohio Valley Conference Offensive Player of the Week Eli Jenkins.
Austin Peay's offensive struggles were too great to be overcome by an excellent effort defensively, which snapped a four-game streak of 40-plus points by one of the nation's top scoring offenses—Jacksonville State entered play ranked 13th nationally and leading the OVC with 38.3 points per game.
The Governors were slow out of the gate, going three-and-out on five of their first six possessions and running just 11 total plays in the first quarter. The Gamecocks wore down Austin Peay early with methodical drives of nine, 11, 11 and 10 plays on their first four possessions.
Troymaine Pope got the scoring started for Jacksonville State, scampering in from 10 yards out on the Gamecocks first possession. Connor Rouleau's 30-yard field goal accounted for the only other score for Jacksonville State in the first quarter.
It looked as though the Governors may have stymied the Gamecocks on their third possession, forcing Jacksonville State into a fourth-and-11 situation, but Jenkins found Josh Barge for 13 yards to convert. Four plays later, Miles Jones punched it in from a yard out, making it 17-0 Jacksonville State.
After another Rouleau field goal and an Austin Peay three-and-out, DeKeivis Perry forced a fumble on the first play of the next Jacksonville State drive that was recovered by Zach Stuart. Unfortunately, Timarious Mitchell was sacked on the first play of the ensuing possession, and the Governors were forced to punt again.
Jacksonville State got one final score late in the half, as Jenkins punched it in from a yard out for the score, capping a 12-play, 60-yard drive. It ended a half of struggle for Austin Peay, which record negative-two yards total offense in the game's first 30 minutes.
Post-halftime, the Governors offense awoke, putting together a 12-play, 68-yard drive that ended with a five-yard touchdown catch by Jared Beard from Timarious Mitchell. It was the third straight game Beard has caught a touchdown pass, the first time an Austin Peay receiver has caught a TD pass in three straight games since Devin Stark had a four-game touchdown reception streak at the end of the 2012 season.
Unfortunately, that would be the only sustained drive for Austin Peay, which saw 10 of its 13 drives end in three-and-outs. On the Governors final possession, Wesley Thomas caught a 68-yard pass for a touchdown from Taylor that was nullified after Thomas was whistled for illegal touching.
The Governors defense played as good as they have all season in the second half, shutting out the Gamecocks after halftime and snapping a streak of 13 consecutive quarters in which Jacksonville State had scored. It's the first time the Gamecocks have failed to score in the second half since last season's playoff contest against Sam Houston State.
Safety Devon Jones led all tacklers with 11 stops (three solo), while Stuart posted five tackles, 2.5 tackles for loss, shared a sack with Hunter Lane and recovered a fumble.
The Difference
Jacksonville State averaged 5.0 yards per play, including a 9.7 yards per completion mark. The Governors, meanwhile, averaged 1.5 yards per play and averaged less than one yard (0.6) per rush, the first time APSU has been unable to manage at least a yard per rush since the Tennessee State contest in 2013.
"You never know where he's gonna be but I like his plays and I've always been a fan of his. He's very aggressive; he's very physical. He's one of those guys where if you had 11 like him on defense you'd give up some of the ugliest plays ever but you'd be a really aggressive defense. Sometimes a linebacker who wants to read the play, look at it, analyze it, they're not very good against these kinds of teams that know exactly what they want to do. He went in and had production," said APSU Football Head coach Kirby Cannon about Zach Stuart.
Up Next for the Govs
Back on the road for Austin Peay next weekend, as the Governors make their second trek down I-24 this season. This time, Austin Peay will head to Hale Stadium for a 2:00pm, Halloween afternoon contest against Tennessee State. The Tigers dropped a 45-21 decision to 13th-ranked Eastern Kentucky, Saturday.
Video
Austin Peay head coach Kirby Cannon addresses the media following the Governors Homecoming loss to Jacksonville State.
Box Score
Jacksonville State (6-1 , 4-0) -VS- Austin Peay (0-8 , 0-5)
| Team | 1st | 2nd | 3rd | 4th | Total |
| --- | --- | --- | --- | --- | --- |
| Jacksonville State | 10 | 17 | 0 | 0 | 27 |
| Austin Peay | 0 | 0 | 7 | 0 | 7 |
Scoring Summary
| | | | | |
| --- | --- | --- | --- | --- |
| 1st | 10:51 | JSU – POPE,Troymaine 10 yd run (ROULEAU,Connor kick ), 9 plays, 64 yards, TOP 2:33 | 7 | 0 |
| 1st | 04:27 | JSU – ROULEAU,Connor 30 yd field goal 11 plays, 54 yards, TOP 5:09 | 10 | 0 |
| 2nd | 12:04 | JSU – JONES,Miles 1 yd run (ROULEAU,Connor kick ), 11 plays, 62 yards, TOP 4:33 | 17 | 0 |
| 2nd | 06:32 | JSU – ROULEAU,Connor 28 yd field goal 10 plays, 44 yards, TOP 3:30 | 20 | 0 |
| 2nd | 00:33 | JSU – JENKINS,Eli 1 yd run (ROULEAU,Connor kick ), 12 plays, 60 yards, TOP 2:19 | 27 | 0 |
| 3rd | 01:43 | APSU – BEARD,Jared 5 yd pass from TAYLOR,Trey (BIRCHFIELD,Loga kick ) 12 plays, 68 yards, TOP 6:22 | 27 | 7 |
| | | | 27 | 7 |
Team Statistics
First Downs
Total
25
7
Rushing
13
4
Passing
12
2
Penalty
0
1
Rushing
Total (Net)
194
17
Attempts
45
27
Avg. Per Rush
4.3
0.6
Rushing TDs
3
0
Yds. Gained
217
55
Yds. Lost
23
38
Passing
Total (Net)
233
65
Comp.-Att.-Int.
24-41-

1

14-27-

0

Avg. / Att.
5.7
2.4
Avg. / Comp.
9.7
4.6
TDs
0
1
Total Offense
Yards
427
82
Plays
86
54
Avg. / Play
5.0
1.5
Fumbles – Lost
1-

1

0-

0

Penalties – Yds.
7-

53

7-

31

Punting
Punts – Yds.
5-

199

11-

416

Avg. / Punt

39.8

37.8

Inside 20

1

0

50+ Yds.

0

0

Touchbacks

1

0

Fair Catch

1

2

Kickoffs
Total – Yds.
6-

375

2-

118

Avg. Yds. / Kickoff

62.5

59.0

Touchbacks

2

0

Returns
Punt: Total – Yds. – TDs
3-10-

0

2-5-

0

Punt: Avg. / Return

3.3

2.5

Kickoff: Total – Yds. – TDs
2-40-

0

3-67-

0

Kickoff: Avg. / Return

20.0

22.3

INT: Total – Yds. – TDs
0-0-0

1-0-0

Fumble: Total – Yds. – TDs
0-0-0
0-0-0
Miscellaneous
Misc. Yards

0

0

Poss. Time

32:34

27:26

3rd. Down Conv.
6 of

17

2 of

15

4th. Down Conversions
3 of

3

1 of

2

Red-Zone: Scores – Chances
5-

5

1-

1

Sacks: Total – Yds.
4-

33

2-

5

PAT: Total – Made
3-

3

1-

1

Field Goals: Total – Made

2-2

0-0