Austin Peay Sports Information

Louisville, KY – Austin Peay State University men's tennis team wrapped up its fall season this weekend at the Louisville Invitational, adding experience while competing against the top players in the area.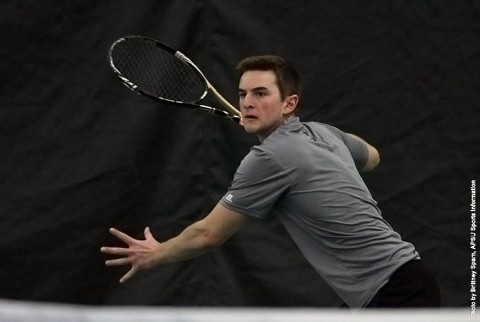 In Flight A singles, the main event of the tournament, juniors
Aaron Jumonville
and
Manuel Montenegro
battled before receiving an early exit. Indiana's Stefan Lugonjic defeated Jumonville, 6-4, 6-0, while Middle Tennessee's Miguel Negre Fernandez defeated Montenegro, 6-2, 6-1.
Both competitors played two consolation matches, with Marquette's Alvaro Verdu edging out Jumonville, 6-4, 6-3, and Butler's Spencer Lang needed three sets to defeat Montenegro, 6-4, 4-6, 10-6.
Sophomore Aleh Drobysh earned a first-round victory over Purdue's Matt Bouggy in Flight B, 6-2, 6-1, before falling to Marquette's Gleb Sklyr in the next stage, 6-3, 6-3. In the same bracket, senior Evan Borowski was defeated by Louisville's Michael Quang, 6-0, 6-1, while freshman Chad Woodham fell to Northwestern Ohio's Iustin Baciu, 6-1, 6-4.
However, Woodham would bounce-back in the consolation round, upending Campbellsville's Eduardo Mendoza, 6-4, 6-2, before losing a thriller to Morehead State's Garrett Mandrell, 6-2, 3-6, 10-8. In addition, Jacob Pugh defeated Borowski, 6-2, 6-3.
In Flight C, freshman Taylor Graalman received a first-round bye, knocked off Northwestern Ohio's Austen Hammett, 6-4, 6-2, before a quarterfinal exit against Lipscomb's George Wong, 6-2, 3-6, 6-4.
On the doubles side, veterans Jumonville and Montenegro defeated Spencer Lang and Adrian Mag, of Butler, 8-6, before falling to Kentucky's Nils Ellefsen and Kevin Lai, 8-5 in Flight A.
In Flight B, Drobysh and Woodham were defeated by Marquette's Sklyr and Alvaro, 8-1, before earning a consolation win over Campbellsville's Zach Baulch and Johan Fuzellier, 8-6.
Borowski and Graalman rounded out the doubles lineup in Flight C, falling to Lipscomb's Wong and Linardi, 8-3, and Campbellsville's Mendoza and Swencki.
The Govs will return to the court, January 22nd, at home against Xavier.