APSU Sports Information

Greeley, CO – Impatience down the stretch has Austin Peay State University men's basketball team entering Sunday still seeking its first win of the 2015-16 season.
After rallying to trail Cal Poly 64-61 with 4:41 left in the Maui Jim Maui Invitational regional second-round contest, the Governors committed five turnovers and failed to convert a field goal in the closing minutes as APSU fell 73-64, Saturday afternoon.
The loss leaves the Govs 0-4 on the season and playing in the tourney's consolation game, Sunday.
Game time will be determined by the opposition, contingent on the Saturday's second-game outcome. If they play Maryland-Baltimore, it will be at 1:00pm CT and if it is host Northern Colorado, it will be 3:30pm.
"We just got into just too big of a hurry, offensively, that was one big issue," APSU coach Dave Loos said. "There were stretches where we played some really good defense…I don't right down the stretch it was nearly as good.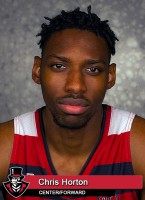 "Mainly it was just getting into too big of a hurry on the offensive end."
That was never more evident than in Chris Horton's numbers.
After going 6-of-6 from the floor in scoring 14 first-half points, Horton only took three second-half field goals, finishing with 20 points and 12 rebounds—his career's 38th double-double.
"We were trying to do too much too soon," Loos said. "We are playing too much one-on-one and not following the plan of getting Chris touches."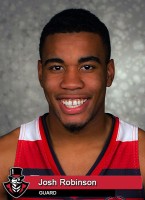 In addition to the five turnovers, the Govs were 0-of-5 from the floor, meaning 10 offensive trips came up empty. APSU's only points came on two Josh Robinson free throws and a single by John Murry.
Although Robinson was APSU's only other double-figure scorer (14 points), it did not come without potholes. The sophomore was just 5-of-18 from the floor, including 1-of-6 from three-point territory. He also committed six of the Govs's 16 turnovers. In fact, Cal Poly turned APSU turnovers in 23 points, nearly a third of its points.
APSU trailed by as much as seven first-half points but actually took the lead, 32-31 with 1:24 left in the half. But Joel Awich nailed a three at the buzzer to give the Mustangs a 34-32 lead at intermission.
In the second half, the 2-2 Mustangs bolted to a 54-43 lead with 11:49 left, with the Govs again clawing back to within reasonable striking distance for a possible stretch run, one that failed to materialize.
Still APSU's head man was able to cull positives from the team's improving defensive performance. The Mustangs shot just 43 percent (26 of 60) from the floor, including 8-of-24 (33 percent) from three-point territory.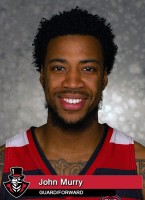 "We went into the game with the goal of seeing how many times we could get three stops in a row," Loos said. "We had two of those occasions in the first half and either four or five in the second. We are making some progress. It is not easy getting three stops in a row. And we did that tonight against a pretty good basketball team.
"The progress is coming, but at the same time the losing is painful—we have played some pretty good teams so far. We just have to stay at it."
The Austin Peay Governors play at home Wednesday, November 25th against Oakland City. Tip off is at 7:00pm CT.
Box Score
Cal Poly 73, Austin Peay 64
| | 1 | 2 | Total | Records |
| --- | --- | --- | --- | --- |
| Cal Poly | 34 | 39 | 73 | 2-2 |
| Austin Peay | 32 | 32 | 64 | 0-4 |
Cal Poly 73
Player
FGM
-FGA
3FGM
-3FGA
FTM
-FTA
OFF
-DEF
TOT
PF
TP
A
TO
BLK
STL
MIN
Awich, Joel
7-11
3-5
2-2
0-6
6
4
19
0
2
1
0
28
Nwaba, David
6-13
0-1
4-8
2-4
6
1
16
4
1
0
4
31
Gordon, Zach
3-6
0-0
0-1
2-2
4
2
6
0
1
1
0
18
Sutlive, Taylor
1-5
1-4
0-0
1-1
2
3
3
2
3
0
0
25
Shipley, Ridge
0-2
0-2
0-0
0-2
2
0
0
4
1
0
1
20
Shead, Jaylen
3-4
2-3
2-2
1-2
3
0
10
3
2
0
1
22
Morgan, Reese
2-6
2-6
3-4
1-4
5
3
9
2
2
0
0
20
Bennett, Brian
3-6
0-0
0-0
0-4
4
4
6
0
0
0
0
16
Meikle, Luke
1-7
0-3
2-2
0-1
1
2
4
0
0
0
0
17
John, Trevor
0-0
0-0
0-0
0-0
0
0
0
0
0
0
0
2
Abrams, Aleks
0-0
0-0
0-0
0-0
0
0
0
0
0
0
0
1
TEAM
0-0
0-0
0-0
2-1
3
0
0
0
0
0
0
0
Totals
26-60
8-24
13-19
9-27
36
19
73
15
12
2
6
200
Austin Peay 64