Clarksville, TN – When the first Austin Peay State University Faculty Senate met in October of 1975, then-senate president Solie Fott made two motions to the University administration.
"Things are a little foggy now, but when I think back on my term as president, I think of two motions we made," Fott said. "The first motion was asking the administration to lower the speed bumps that were all over campus, and especially around the administration building. The administration told us no.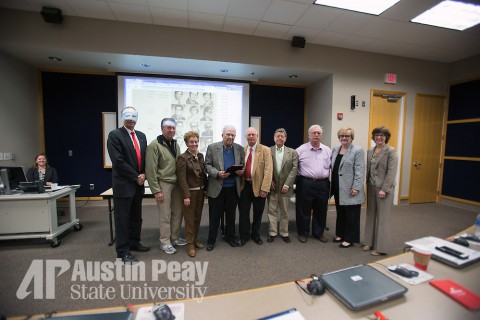 "The second motion we sent to the administration, then, was a request that they raise the level of the pavement," Fott joked.
Neither motion was successful, but the work of Fott and a dedicated group of faculty some 40 years ago last month laid the groundwork for what is now a successful relationship between faculty and administration.
On Thursday, Fott, along with fellow senate founding members Dick Gildrie, Phil Kemmerly, Bert Randall and George and Sharon Mabry was honored before the November session of the senate. Fott was presented with a plaque to honor the occasion, while the founding members were honored by both current senate members, as well as APSU President, Alisa White and Provost, Rex Gandy.
The faculty senate at APSU exists to investigate, consider and act on any matter it deems appropriate by virtue of relevance to the concerns of the University faculty. The faculty senate reports to the University faculty, and to other elements of the University.
With over 50 members spread across 20 departments, the senate is able to serve as both an advisor to the president of the University, but also a sounding board for issues and concerns across the campus.
"Everyone here knows, from our interactions with colleagues at other universities in the state of Tennessee, how lucky we are to have the level of shared governance we enjoy here at Austin Peay," Dr. Tim Winters, current senate president, said. "None of what we enjoy would be possible, but for a small group of people, who, in 1975, hammered out the first constitution for a faculty senate at Austin Peay."
White, who works in collaboration with the faculty senate in her role as president, thanked Fott and the gathered members for their efforts in establishing a still-thriving relationship.
"I just want to thank (the gathered members) for setting up faculty senate so well," White said. "Because of the work they did, we here at Austin Peay still believe in shared governance today."