Tennessee, higher education leaders to provide guidance on Drive to 55 alignment plan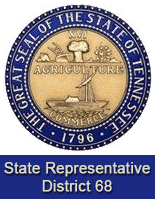 Nashville, TN – Tennessee Governor Bill Haslam announced this week his appointments to the new education task force focused on offering guidance related to the administration's proposed Focus On College and University Success (FOCUS) Act during the upcoming session of the Tennessee General Assembly.
Comprised of higher education leaders and professionals, the task force will have two components: a steering committee to provide high level implementation guidance to the governor and a working group that will offer technical assistance and report back to the steering committee.
The transition steering committee is charged with evaluating key operational areas that will need adjusting under the FOCUS plan and ensuring all sectors of Tennessee public higher education are positioned to maximize student success under the new governance structure.
Haslam will chair the steering committee and serve with 14 other appointees, including House Speaker Pro Tempore Curtis Johnson (R-Clarksville) and Austin Peay State University President Dr. Alisa White.  Only two legislators were selected to serve on the panel—Johnson and Senate Majority Leader Mark Norris (R-Memphis).  The transition task force will also seek feedback from a variety of stakeholders including students, parents, higher education leaders, higher education practitioners and advocacy groups.
"I look forward to serving on this elite team.  Tennessee is in the forefront of innovative educational ideas.  To compete in the international market, we must have a well-educated work force, and the Governor's plan is a major step in that direction,' said Representative Johnson.
"Higher education is facing many challenges nationwide, and it's gratifying that education is a focus of Tennessee leaders. It is important to have broad representation from many sectors of state leadership on the Governor's transition task force, and I'm delighted to have the opportunity to serve," Dr. White said.
The FOCUS Act is the next step in the Drive to 55: ensuring that colleges and universities are organized, supported and empowered in efforts to increase the percentage of Tennesseans with a postsecondary credential to 55 by 2025.
By 2025, 55 percent of the jobs available in Tennessee will require a postsecondary credential, and currently only 33 percent of Tennesseans qualify. The governor launched his Drive to 55 two years ago to increase the number of Tennesseans with a postsecondary degree or certificate.?