APSU Sports Information

Clarksville, TN – Senior guard Tiasha Gray scored 12 of her 16 points in the second half and blocked a potential game-tying shot at the buzzer to help Austin Peay State University women's basketball team escape with a 61-59 Ohio Valley Conference victory against Jacksonville State, Thursday night at the Dunn Center.
Despite a listless first half performance, Austin Peay (4-11, 2-0 OVC) trailed by just eight points, 30-22, entering the break.
The Govs used a 22-point third quarter – the best single-quarter scoring effort by either team – to tie the game briefly midway through the quarter but eventually resulting in a one-point, 45-44 deficit.
That set up a frantic fourth quarter that saw the teams trade the lead seven times – there were only two lead changes in the first 30 minutes. Austin Peay opened the quarter with an 8-2 burst led entirely by its frontcourt – junior forward Beth Rates, sophomore forward Sydney Gooch and junior center Tearra Banks.
Jacksonville State (6-9, 1-2 OVC) responded with the game's next six points, courtesy back-to-back three-pointers by senior guard Courtney Strain and junior guard Briana Benson, to retake the lead 53-52. Gray then stepped up with the game's next six points and assisted on redshirt freshman guard Falon Baker's three-pointer to give APSU a five-point, 61-56 advantage with 2:36 left.
Austin Peay would not score the game's remainder, but Jacksonville State could not erase that five-point advantage. The Gamecocks hit a jumper then converted on one of two free throws on their next two possessions, but would not score again. Down the stretch, Gray led an APSU defense that stifled the JSU offense and capped the effort by blocking the game's final shot as time expired to seal the win.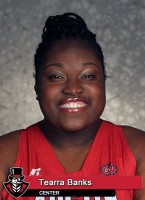 The second half largely erased a sub-par first half effort by Austin Peay. The Govs made just 28.1 percent (9-of-32) of its shots in the opening half and committed seven turnovers. In addition, APSU was without Gray – its leading scorer – for 10 minutes of the opening half due to foul trouble.
Yet for all of Austin Peay's woes, Jacksonville State could not deliver a knock-out blow in the opening half. The Gamecocks would build a 12-point lead with 4:55 left in the second quarter. But Austin Peay head coach David Midlick gambled and put Gray back in to the game with two fouls. The hunch paid off as APSU halved the JSU lead in less than three minutes before settling on an eight-point, 30-22, halftime deficit.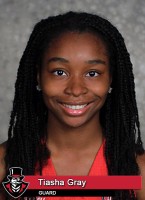 Gray finished with a game-high 16 points despite struggling with her shot to the tune of a 6-of-23 shooting performance. Freshman Keisha Gregory chipped in career highs in points (11), rebounds (5) and assists (3) to help offset Gray's woes. Baker added 13 points and four rebounds.
Strain led Jacksonville State with 15 points. Benson (13) and sophomore guard Gretchen Morrison (10) also reached double-digit scoring territory. That trio each had three three-pointers as Jacksonville State went 9-of-21 from three-point range. Sophomore forward Tyler Phelion added 11 points.
Austin Peay closes out its OVC-opening three-game homestand when it hosts Tennessee Tech in a 4:00pm, Saturday contest.
Video