Austin Peay Sports Information

Clarksville, TN – Senior guard Tiasha Gray posted a season-high 32 points to lead Austin Peay State University women's basketball team past Tennessee Tech, 91-75, in Ohio Valley Conference play, Saturday, at the Dunn Center.

For the second straight game Austin Peay (5-11, 3-0 OVC) saved its best for last, saving a 32-point outburst for the fourth quarter against Tennessee Tech.

After a seesaw third quarter left the game tied, 59-59, Austin Peay broke the game open with seven straight points just before the fourth quarter's midpoint.

Gray led that 7-0 charge with its first five points, including a conventional three-point play. She then added five assists the rest of the quarter, including three assists in Austin Peay's game-sealing 8-2 run over the final 1:13.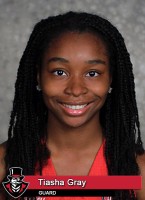 Tennessee Tech (5-12, 1-3 OVC) controlled the bulk of the opening half, which saw each team piece together a large run. Tennessee Tech dominated the first quarter with a 16-2 run, including a stretch of 11 consecutive points, to build a 20-6 lead and to hold a 23-10 advantage at quarter's end.
Austin Peay replied with the second quarter's first 15 points and briefly took the lead, 25-23, less than four minutes into the quarter.
After that exchange of runs, the two teams traded shots the remaining six minutes. The Golden Eagles would build a five-point advantage, 32-27, with 2:48 left. However, Gray kept the Govs close, scoring seven straight APSU points.
Sophomore Sydney Gooch hit a jumper with 10 seconds left to set the Austin Peay deficit at two points, 38-36, entering the half.
Gray's 32-point effort was her first this season and came in just 32 minutes of playing time. She filled in the stat sheet with seven rebounds, seven assists and four steals.
Gray got much-needed assistance from the frontcourt duo of junior forward Beth Rates and sophomore center Brianne Alexander. Rates poured in a career-high 18 points, making 8-of-10 from the floor, and had seven rebounds, three blocked shots and three steals.
Alexander, making her first appearance since December 22nd, supplied a 17-point, eight-rebound performance thanks to an 11-of-12 effort from the free-throw line.
Senior guard Samaria Howard led Tennessee Tech with 28 points, reaching 20-point territory for the fourth consecutive OVC contest. Sophomore guard Yaktavia Hickson added 15 points.
Austin Peay, which swept its three-game OVC homestand, now begins a three-game OVC road trip with a 5:30pm, Thursday contest at Tennessee State.
Box Score
Tennessee Tech 5-12 (1-3 OVC) 75, Austin Peay 5-11 (3-0 OVC) 91
| | 1 | 2 | 3 | 4 | Total |
| --- | --- | --- | --- | --- | --- |
| Tennessee Tech | 23 | 15 | 21 | 16 | 75 |
| Austin Peay | 10 | 26 | 23 | 32 | 91 |
Tennessee Tech 75
Player
FGM
-FGA
3FGM
-3FGA
FTM
-FTA
OFF
-DEF
TOT
PF
TP
A
TO
BLK
STL
MIN
Samaria Howard
12-23
1-2
3-6
3-5
8
3
28
1
4
0
1
40
Yaktavia Hickson
6-13
2-6
1-1
0-2
2
4
15
4
3
0
0
25
Hannah Goolsby
3-10
0-3
3-3
0-3
3
1
9
1
4
0
0
32
Tia Nicholson
1-2
0-0
1-2
1-2
3
3
3
0
1
2
0
24
Alliyah Smith
0-2
0-0
2-2
3-0
3
3
2
0
1
0
0
10
Lindsey Jennings
2-4
0-1
5-6
0-2
2
5
9
1
1
0
2
19
Mariah Dean
3-9
0-0
0-0
2-7
9
5
6
1
0
1
2
26
Takisha Jordan
1-1
0-0
1-2
0-1
1
2
3
2
0
0
1
7
Treyvonna Brooks
0-1
0-0
0-0
0-2
2
3
0
0
1
0
0
7
Asia Harper
0-3
0-0
0-0
2-0
2
0
0
1
0
0
0
5
Kandace Newry
0-0
0-0
0-0
0-0
0
1
0
0
0
0
0
4
Brittany Cooper
0-0
0-0
0-0
0-0
0
1
0
0
0
0
0
1
TEAM
0-0
0-0
0-0
3-0
3
0
0
0
0
0
0
0
Totals
28-68
3-12
16-22
14-24
38
31
75
11
15
3
6
200
Austin Peay 91
Sections
Sports
Topics
APSU, APSU Athletics, APSU Basketball, APSU Dunn Center, APSU Sports, APSU Women's Basketball, Austin Peay State University, Beth Rates, Brianne Alexander, Clarksville TN, Golden Eagles, Ohio Valley Conference, OVC, Samaria Howard, Sydney Gooch, Tennessee State, Tennessee Tech, Tiasha Gray, Tigers, Yaktavia Hickson