Austin Peay Sports Information

Clarksville, TN – Sophomore guard Josh Robinson nailed a long three-pointer with 0.3 seconds left to send the game to overtime and then provided seven points in the extra session, including the game-sealing free throws in the closing seconds, as Austin Peay State University rallied for a 90-86 Ohio Valley Conference victory, Thursday night, in Dave Aaron Arena.
The victory snapped a three-game Govs losing streak and improved them to 9-12 overall and 2-4 in the OVC. It also was Dave Loos' 400th APSU coaching victory—Loos is the OVC's all-time wins leader.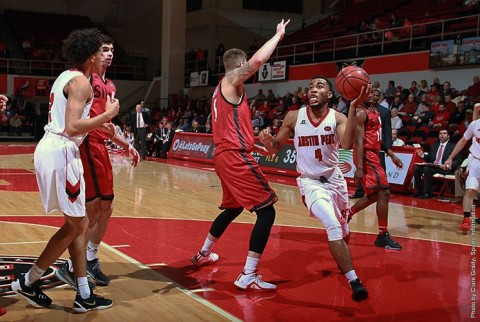 The defeat dropped SIUE to 4-15 overall and 1-6 in the OVC. And it was as much as painful defeat for the Cougars as it was a joyful one for the Governors.
Leading by three pointer, 76-73, with 30 seconds left, Robinson missed a potential game-tying three-point attempt with 11 seconds left. SIUE grabbed the rebound and got it to Jake Newton, who scored a career-high 22 points on seven three pointers.
The senior went to the free-throw line for an opportunity to put the game away. He missed both free-throw attempts with 8.4 seconds left. Robinson grabbed the rebound, dribbled close to the top of the three-point arc and let fly his game-tying shot. That shot gave him his 30th, 31st and 32nd point, sending the contest to overtime.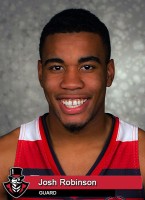 It was a back-and-forth contest through the first two minutes of overtime. But SIUE took the lead when Newton hit his seventh three pointer for an 81-80 advantage with 3:18 left. Then Yemi Makanjuola hit two free throws to give the Cougars an 83-80 advantage.
However, Robinson answered with a pair of free throws to cut it to one and then after the two teams came up empty on a few possessions, Robinson scored on a layup on a pass from Zach Glotta to give APSU a one-point 84-83 lead. However, that advantage was short lived as Burak Elsik, the reigning OVC Player of the Week, was fouled on a three-point attempted. He nailed all three free throws—he was 11 of 12 at the line on the night—to give SIUE an 86-84 lead with 1:10 left.
With SIUE's attention on Robinson, he found fellow St. Louis-area native Zach Glotta alone in the right corner for a three pointer with 58 seconds left. Bursak attempted to answer but shot an air ball on a three-point attempt, with the ball rolling out of bounds with 33 seconds left.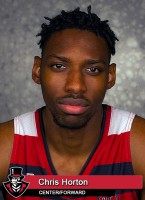 The Cougars then fouled Robinson with 21 seconds left. He stepped to the line and made his 15th and 16th straight free throws for an 89-86 lead.  On the ensuing play, Robinson came up with a steal defensively and was fouled with 3.4 seconds left.
Robinson finally missed a free throw on the front end of the two-shot foul but he nailed the second for the game-sealing point.
That missed free throw cost Robinson APSU's first 40-point game since Derek Wright had 43 against Southeast Missouri, January 29th, 2008. Still he finished with a career-best 39 points, including his 17-of-18 at the free-throw line—he came into the game ranked 10th nationally in free-throw percentage (90.2 percent). Chris Horton tallied his 16th double-double with 15 points and 15 rebounds, but it was a struggling night for the Govs' post player, who made just 6-of-16 shots.
The Governors' other double-figure scorers were a pair of reserve freshmen. Glotta and Chris Porter-Bunton each finished with 10 points.
The Govs trailed by double digits twice in the second half, the last time 71-61 with 4:52 left after a C.J. Carr three pointer. But APSU then went on a 10-0 run, including a pair of Robinson three pointers plus a two pointer to tie the game.
Elsik matched Newton with 22 points while Carlos Anderson added 13. Makanjuola finished with 13 rebounds.
Video – Josh Robinson
Next Up
The Austin Peay Governors are back on the court Saturday, January 23rd, 2016 as they face Eastern Illinois in Clarksville. Tip off is at 6:30pm.
Box Score
SIU Edwardsville (4-15/1-6 OVC) 86, Austin Peay (9-12/2-4 OVC) 90
| | 1 | 2 | OT 1 | Total |
| --- | --- | --- | --- | --- |
| SIU Edwardsville | 42 | 34 | 10 | 86 |
| Austin Peay | 39 | 37 | 14 | 90 |
SIU Edwardsville 86
Player
FGM
-FGA
3FGM
-3FGA
FTM
-FTA
OFF
-DEF
TOT
PF
TP
A
TO
BLK
STL
MIN
Burak Eslik
5-11
1-6
11-12
0-2
2
0
22
2
6
0
2
40
Carlos Anderson
5-16
1-6
2-2
2-5
7
3
13
3
2
0
3
40
C.J. Carr
2-8
2-4
2-2
0-1
1
1
8
4
2
0
2
27
Keenan Simmons
3-3
0-0
0-0
3-1
4
4
6
1
1
1
0
24
Yemi Makanjuola
1-4
0-0
2-3
1-12
13
5
4
0
2
0
1
24
Jake Newton
7-11
7-10
1-4
0-1
1
4
22
1
1
1
1
25
Jalen Henry
3-5
0-0
1-1
4-4
8
3
7
1
1
1
0
18
Grant Fiorentinos
1-2
0-0
0-0
0-1
1
2
2
1
1
0
0
11
Devin Thornton
1-2
0-1
0-0
0-0
0
0
2
0
0
0
0
2
Michael Chandler
0-1
0-0
0-0
0-0
0
1
0
0
1
0
0
10
Connor Wheeler
0-0
0-0
0-0
0-0
0
0
0
0
2
0
1
4
TEAM
0-0
0-0
0-0
0-2
2
0
0
0
1
0
0
0
Totals
28-63
11-27
19-24
10-29
39
23
86
13
20
3
10
225
Austin Peay 90
Player
FGM
-FGA
3FGM
-3FGA
FTM
-FTA
OFF
-DEF
TOT
PF
TP
A
TO
BLK
STL
MIN
Josh Robinson
9-21
4-9
17-18
1-4
5
3
39
2
3
0
4
44
Chris Horton
6-16
0-0
3-6
7-8
15
4
15
0
3
1
0
41
Khalil Davis
2-8
0-4
2-4
1-2
3
2
6
1
3
0
2
35
Kenny Jones
2-3
0-0
1-4
1-2
3
2
5
0
3
2
0
20
Terrell Thompson
0-5
0-1
0-0
2-2
4
1
0
3
1
0
2
28
Zach Glotta
3-5
2-4
2-2
0-1
1
2
10
2
0
0
1
17
Chris Porter-Bunton
4-5
1-2
1-2
1-1
2
3
10
0
1
0
2
12
Jared Savage
2-5
1-4
0-0
0-3
3
1
5
2
1
0
2
26
Assane Diop
0-1
0-0
0-0
0-0
0
1
0
0
0
0
0
2
TEAM
0-0
0-0
0-0
4-4
8
0
0
0
0
0
0
0
Totals
28-69
8-24
26-36
17-27
44
19
90
10
15
3
13
225