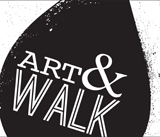 Clarksville, TN – Clarksville's First Thursday Art Walk is produced by the Downtown Clarksville Association and is a free, self-guided tour spanning a 5-block radius that combines visual art, live music, engaging events and more in the heart of Downtown Clarksville.
With 10+ venues, bars and businesses participating each month, the First Thursday Art Walk in Clarksville is the ultimate opportunity to savor and support local creative talent.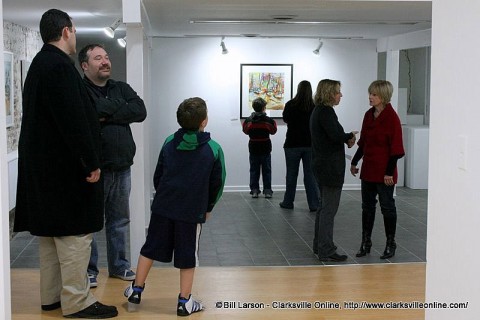 The February Art Walk will be held February 4th from 5:00pm to 8:00pm at the shops and galleries on Public Square, Franklin Street, and Strawberry Alley.
The participating businesses are listed below as well as a description of the work they will be exhibiting and services they will be offering during the event.
Edward's Steakhouse (107 Franklin Street)
Edward's Steakhouse is proud to feature local artist Peggy Bonnington, during the February First Thursday Art Walk.
Peggy Bonnington gravitates toward the unfettered creativity of unconsciously wandering lines, an intuitive stroke of color and impulsive shading. Peggy taught special education with Fort Campbell Schools. She retired in 2008. Peggy is an active member of the DAC (Downtown Artists' Co-op.) According to the artist, "I seek to become more comfortable and adept with paint and brush, but lately I am enjoying exploring a merger of painting with drawing."
Stop in, see the art, listen to Denise Fuller, live, on the piano and take in their Thursday night special, 1/2 priced $7.00 appetizers and 2 for 1 draft drink specials.
The Roxy Regional Theatre (100 Franklin Street)
Peg Harvill Gallery
The Roxy Regional Theatre's Peg Harvill Gallery is proud to feature the art of local artist, Larry Martin during the February First Thursday Art Walk.
Having a varied career in accounting, linguistics, music and financial management, Martin was always interested in art, but only began painting seriously after he retired at age 65 and has been painting for 10 years now.
His career journey meandered through a stint in the military in California and Maryland, many years in the Orient as a Chinese Mandarin linguist, many more years in the Washington, D.C. area as Operating Manager for a major corporation, and finally marriage at age 40 and permanent relocation to Tennessee as Vice President of a Financial Management company.
During all the while he pursued a music career with bands, in piano bars, and as a church organist for over 60 years. He is now retired and just plays bridge (a Bronze Life Master in the ACBL), paints, and enjoys life.
Additional gallery hours are Monday through Friday, 9:00am – 2:00pm.
For tickets to and information about our current productions, "Little Red Riding Hood & Friends", "Blues in the Night" and "The Mountaintop", please visit www.roxyregionaltheatre.org or call the box office at 931.645.7699.
Downtown Artists Co-op (96 Franklin Street)
The DAC is an association of talented local artists and interested patrons dedicated to promoting the visual arts in the Clarksville/Montgomery County area.
Our objectives are to sponsor art exhibitions of work by Co-op members and regional artists, to provide continuing support for the Co-op and its membership through the sale of art work, to encourage arts education with outreach programs and scholarship fundraisers, and to develop membership services which directly support the arts community.
Artist Information
The Downtown Artists Co-op will be hosting the Regional Photography Exposition during the February First Thursday Art Walk. This is an annual juried photography "contest" that is open to anyone at least 18 years of age who lives in either Tennessee or Kentucky.
There will be four categories of subject matter:  landscape/nature; human portrait/figure; still life (with emphasis on studio setup);  and experimental/alternative process with camera capture.
The entries will be juried for awards by Mr. Johnnie Welborn, an accomplished professional photographer with more than 30 years in the business, and Dr. Jim Diehr who was a college art professor for 45 years and is presently Professor Emeritus busily working every day in his studio.
The awards presentation will begin promptly at 6:00 p.m. during the First Thursday Artwalk on February 4th with a reception from 5:00pm through 8:00pm. All works entered in the Photo Expo will be in display in the gallery during normal business hours until February 27th.
Thanks to our generous sponsors: The Framemaker, Sango Wine and Spirits and Gerald Gilman.
Customs House Museum (200 S. 2nd Street)
The Customs House Museum and Cultural Center is Tennessee's second largest general interest museum. It features fine art, history, and children's exhibits.
Artist Information
Join us for the February First Thursday Art Walk and enjoy free admission!
Exhibits
Of Stars & Stripes: From the Collection of Dr. John Olson
January 13th – February 28th
See the history of our country through this private collection of vintage flags. See original pre-Civil War flags, reproductions from the Colonial era, and more!
Celebrating Black History Month
February 2nd – February 28th
Items from our collection showcase Black History Month. Featured artifacts on display include slave inventory lists, a United States Colored Troops (USCT) 16th regiment poster, a slave shackle with ball and chain, a class photo of Cobb Elementary c. 1915, and some other interesting photographs and documents that relate to the history of African Americans in the Montgomery County region.
Mergings: A Visual Exploration: The Art of Jennifer Crescuillo
February 2nd – 28th
Jennifer Crescuillo is an internationally exhibited artist currently living and working in Silver Point, Tennessee with her family. Jennifer earned her Masters of Fine Art in glass at Southern Illinois University. This series of art features fused, cold worked, and sand carved glass monuments to obsolete technology.
Couture Crush (101 Franklin Street)
Couture Crush is proud to support the February First Thursday Art Walk and will stay open late and serve light refreshments. Its not too early to think about Spring, so stop in and find ways to transition your wardrobe during the February First Thursday Art Walk!
The Framemaker  (705 North Second Street)
For over two decades, The Framemaker has offered a unique selection of frames and art services to the Middle Tennessee area.
Artist Information
The Illuminating Past – New Work by Amy Dean
The Framemaker proudly presents new work by artist Amy Dean. This exhibit is part of Clarksville's First Thursday Art Walk on February 4th, 2016. An opening reception will be held from 5:00pm to 8:00pm. The exhibit will remain on display at the Framemaker throughout the month of February during normal business hours (Monday through Friday 10:00am – 5:00pm).
Amy Dean lives in Clarksville, Tennessee, and attends Austin Peay State University. Amy writes, "I am making work that responds to earlier, historically important, artwork. By studying and conversing with these artists, I find my own work is brought to life. In this critique I am exposing them turning them inside out and allowing their story to mingle with mine".
The Framemaker is located at the corner of North Second Street and Georgia Avenue, across from the Clarksville Academy.
Rogate's Boutique (115 Franklin Street)
You are sure to find something new and exciting each time you visit Rogate's Boutique! Our store offers all the latest amazing fashion trends, while remaining focused on timeless style. And we know how much fun shopping should be, so you can always expect to have a great time here.
Artist Information
Rogate's Boutique will not feature an artist during the February First Thursday Art Walk, but will be open for business until 7:00pm.  Winter's not over yet, so stop in an find a few pieces to warm you up this season!
Hops Road (101 Strawberry Alley)
Good Morning Coffee-Espresso & Lattes – Signature Roast & Dark Roast
open at 7:00am Croissants- Scones & Pastries- Gourmet Sandwiches, Wraps, Salads – Burgers & Craft Beers
Hops Road, located on Strawberry Alley in Historic Downtown Clarksville, is proud to support the February First Thursday Art Walk. Stop in, grab a bit to eat and check out some of the great local artists that Clarksville has to offer.
Hops Java & Juice (100 Strawberry Alley)
Hops Java & Juice is proud to support the February First Thursday Art Walk in Historic Downtown Clarksville.
Stop in and enjoy the artwork displayed throughout the shop, pick up locally sourced products and food and grab a cup of coffee to keep you warm as you enjoy the February First Thursday Art Walk!
Mildred & Mable's (109 Franklin Street)
Mildred and Mable's will stay open late during the February First Thursday Art Walk.
Stop in and check out all of the great gift and clothing options offered in Historic Downtown Clarksville.