Austin Peay Sports Information

Clarksville, TN – Austin Peay State University head coach Will Healy's first APSU football signing class will be a memorable one.
Healy brought in the top-ranked class in the Ohio Valley Conference according to 247sports.com and one of the nation's top FCS classes, staking his claim to the state of Tennessee in the process—16 of his 26 commitments hailed from the Volunteer State, including McCallie's JaVaughn Craig and Corey McDonald, who had drawn interest from Healy's previous school, Chattanooga.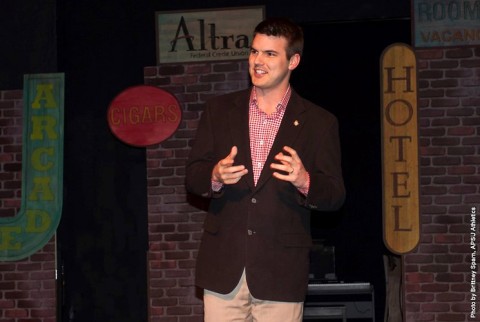 Eight—Craig, McDonald, Stratford's Corey Simmons, Jefferson County's Gorel Soumare, Stewarts Creek's Cynterius Lyons, Fulton's Matthew Gayle and Whitehaven's duo of Delvin Salters and Rodney Saulsberry Jr.—were among the state's top-100 players.
In-state, Healy's ties near Chattanooga helped snare not only Craig and McDonald but Ooltewah duo Tyler Reid and Nick Putman, who posted 12 sacks as a senior. McCallie, Ooltewah, Whitehaven, Fulton (Gayle and Kentel Williams) and Brentwood Academy (Trent Taylor, Prince Momodu and Chris Hopkins) were schools the Governors were able to snare at least a pair of in-state players from–four of those schools advanced to at least the quarterfinals in the 2015 TSSAA playoffs, while Fulton won three consecutive state championships with Gayle and Williams prominently involved.
Thirteen players—the aforementioned eight plus Neonta Alexander, Dillon Daniels, Griffin Wattley, Kevin Robinson and Tyler Reed—had earned multi-star ratings from either 247sports.com or Rivals.com. Daniels ranked 39th overall in the state of Arkansas, while Robinson was 17th in Connecticut, per 247sports.
In all, Healy's first haul netted Austin Peay a class that ranked 132nd nationally among all Division I schools and fifth in the FCS, according to 247sports.com. The incoming class also stands out in the class room—15 earned 3.1 GPA's or better during their prep days.
Healy wanted to make it a point to lock up Tennessee, but he made sure to hit some of the surrounding area as well. He snared two players from 2015 Georgia AAAA state champion Cartersville—Terrius Callahan and Tyler Reed—and added Terry Beckham (Tucker), Griff Wattley (McEachern) and Tristen Pierce (Ringgold) for five total players from the Peach State. Three new Govs hail from Alabama in Piedmont's Alexander, Hewitt-Trussville's Jaison Williams and Pell City's Elijah Shepard, while Arkansas (Daniels) and Connecticut (Robinson) are now represented on the APSU roster.
"You look at some of the programs we went to in Georgia and Alabama, they're really good, winning programs. They're programs winning state championships and competing nationally. It wasn't just about getting into Georgia and Alabama; it was about getting good players out of good programs."
After bringing in 17 linemen in last season's recruiting class, the Govs added depth elsewhere this season. APSU did bolster its line with seven additions in the trenches, five—McDonald, Gayle, Williams, Putman and Hillsboro's Malcom Swann—along the defensive front, but was most active in the secondary, with as many as six newcomers potentially lining up in the defensive backfield.
For Healy, a renowned offensive mind, adding defensive depth was imperative. Versatile players such as Craig and Lyons, who can play both sides of the ball, and Hopkins, a hybrid safety/linebacker, are what Healy hopes will be representative of a new era of Austin Peay football.
"I don't think it ever hurts to get guys who can play a lot of different positions," Healy said. "We've got to try to find a way to get the best 11 on the field. We want to recruit athletes; at the high school level, the best athlete usually has the ball in his hands. We want the best players; we didn't go for a ton of positional needs."
The Governors skill positions were addressed as well. New to the backfield will be Simmons, Momodu and Blackman's Taeler Dowdy, while up to five newcomers could find themselves lined up at wide receiver—including Craig, who could be in the mix under center for the Governors as well.
Spring practice begins for Austin Peay's returners March 15th, with Healy's first Red-and-White game slated for April 16th, 2016.
About the Class
Tennessee Commits: 16 (Craig, McDonald, Hopkins, Taylor, Momodu, Lyons, Simmons, Soumare, Salter, Saulsberry Jr., Dowdy, Putman, Reid, Gayle, K. Williams, Swann)
Alabama Commits: 3 (Alexander, Shepard, J. Williams)
Georgia Commits: 5 (Callahan, Reed, Beckham, Wattley, Pierce)
Arkansas Commits: 1 (Daniels)
Connecticut Commits: 1 (Robinson)
Multi-star rankings: 13 (Saulsberry Jr., Salter, Reed, Gayle, Craig, McDonald, Wattley, Simmons, Daniels, Soumare, Lyons, Robinson, Alexander)
All-State honorees: 11 (Swann, K. Williams, Saulsberry Jr., Salter, Reed, Gayle, Hopkins, Dowdy, Taylor, Pierce, Craig)
Players for state champions: 11 (Pierce, Taylor, Momodu, Hopkins, Daniels, Gayle, K. Williams, Reed, Callahan, Saulsberry Jr., Salter)
FBS Offers: 7 (Alexander, Salter, Shepard, Callahan, Pierce, Taylor, Craig)
Offensive Players: 11 (Momodu, Simmons, Soumare, Dowdy, K. Williams, Callahan, Wattley, Pierce, Daniels, Robinson, Salter)
Defensive Players: 13 (McDonald, Hopkins, Taylor, Saulsberry Jr., Putman, Reid, Gayle, Swann, Alexander, Shepard, Williams, Reed, Beckham)
Athlete (Off./Def.): 2 (Craig, Lyons)