Austin Peay (7-18/5-7 OVC) vs. UT Martin (17-7/10-1 OVC)
Saturday, February 13th, 2016 | 5:15pm CT
Clarksville, TN | Dunn Center

Clarksville, TN – The final two weeks of Austin Peay State University women's basketball team's regular-season schedule begins when it hosts Ohio Valley Conference leading UT Martin in a 5:15pm, Saturday contest at the Dunn Center.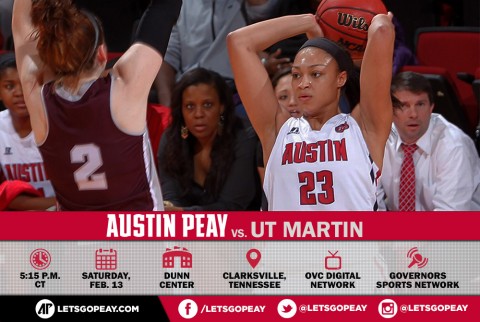 The Governors have struggled during the home-and-home portion of the OVC schedule, posting a 1-5 record, including its current five-game losing streak.
A 64-56 loss at Eastern Illinois, Wednesday, continued Austin Peay's recent woes as it suffered its worst shooting night since November.
The Govs made just 32 percent (16-of-50) of their shots and were only 1-of-10 from three-point range.
The losing streak has dropped Austin Peay into a precarious position in the OVC standings. The Govs are now 5-7 in league action and in a four-way tie for sixth-place, with only eight teams qualifying for March's OVC Basketball Championship. While Austin Peay will play three of its final four games at home, it also will face three of the league's top four teams in the standings.
The Govs frontcourt had its best outing of February at Eastern Illinois with junior forward Beth Rates and sophomore forward Sydney Gooch combining for 27 of APSU's 56 points. Rates led APSU in scoring for the first time this season, finishing with 16 points. Meanwhile, Gooch notched her second double-double this season with an 11-point, 11-rebound outing that also saw her hand out a career-high tying four assists.
Senior guard Tiasha Gray finished with 13 points despite playing only 24 minutes – the third consecutive game she has played less than 30 minutes. She finished with four steals, moving her into fourth on the OVC's career steals list, and handed out four assists.
UT Martin continues to be the OVC's hottest team, bringing a 10-game win streak into Saturday's affair. The Skyhawks win streak is the 10th longest in Division I and has catapulted them to the top of the league standings as they hunt for a third straight regular-season title. UTM extended its win streak with a decisive 95-65 victory against fourth-place Southeast Missouri, Wednesday.
The Skyhawks are one of the nation's most dangerous three-point shooting teams, a fact Austin Peay learned in the season's previous meeting, February 3rd. UT Martin made 17 three pointers in that 75-51 victory, the most allowed by an Austin Peay team in program history.
The Skyhawks are second among all Division I teams with 10.7 three-pointers per game and rank sixth in three-point field goal percentage (39.4).
Junior guard Jessy Ward is the nation's sixth-most prolific three-point threat, making 3.3 per game. She made five against Austin Peay in the season's earlier meeting, part of 13 made in her last three games. Senior forward Haley Howard led UTM against the Govs with 25 points, including seven three pointers, but scored just six points against Southeast Missouri.
The More You Know
Tough Uphill Climb Ahead
Austin Peay enters the weekend as one of four teams tied for sixth place at 5-7 in the OVC standings. The Govs are tied with Jacksonville State, Tennessee State and Murray State while Tennessee Tech lurks close behind at 4-8.
While Austin Peay is the only team out of the four with three home games remaining, they also will face the toughest schedule. Three of the OVC's top four teams await down the stretch, with APSU's remaining four teams combining for a 31-16 (.660) league mark.
The next toughest schedule strength is Tennessee State (23-22, .511) followed closely by Murray State (24-23, .511) while Jacksonville State has the easiest schedule (18-28, .391).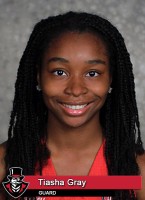 Gray Milestone Watch
Senior guard Tiasha Gray became only the fifth APSU women's basketball player to reach the 1,500-point plateau with her 27-point performance at East Tennessee, December 21st. Gray also became only the fifth OVC women's basketball player to record 300 career steals, reaching the milestone February 6th at Murray State. Her upcoming milestone marks are listed below:
OVC Career Steals | Currently 4th (304)
Next: 324 by Pam Chambers (TTU, 1976-80)
APSU Career Steals | Currently 1st (304)
Previous Record: 243 by Tracie Mason (1987-91)
APSU Career Points | Currently 5th (1,787)
Next: 1,805 by Shondra Maxwell (1986-90)
APSU Career Assists | Currently 3rd (488)
Next: 507 by Jeanne Hinchee (1978-82)
APSU Lady Govs Ledger
Facing one of the nation's toughest nonconference slates (29th ranked) took its toll early as APSU averaged just 59.3 points per game against its 11 Division I opponents. It has popped the lid on its offense in conference action, averaging 72.6 points per game and topping the 80-point barrier five times in OVC action.
During the nonconference portion of the schedule, Gray and Banks scored over 50 percent of APSU's points. However, that percentage has declined in OVC play, with the duo averaging just 43.1 percent of the team's scoring.
An Austin Peay Win Would
End its five-game losing streak… End its nine-game losing streak against UT Martin… Be its fifth straight Saturday home win… Guarantee it a home winning record for the first time since the 2010-11 season.
Make David Midlick 8-18 overall and 6-7 in OVC play in his first season at Austin Peay and 53-34 in his third season as a head coach overall… Make the Govs 458-667 since 1976-77 and 234-337 in OVC action.
Broadcast Information
Austin Peay Radio
Presented by WAPX 91.9 FM
Play-by-Play: Blake Ball
OVC Digital Network
Presented by APSU Department of Communications
Play-by-Play: Henry Brooks
Analyst: Guy Patterson
Sideline: Sheridan Black
APSU Lady Govs on the Web
Live Video: www.OVCDigitalNetwork.com
Live APSU Audio: www.LetsGoPeay.com/Listen
Live Statistics: www.PeayStats.com