Clarksville, TN – This March, Austin Peay State University's premiere choral ensemble – the Chamber Singers – will showcase their talents in Tennessee and Illinois during their 2016 tour. The group will visit local high schools during the day, and they will perform free concerts for members of these local communities.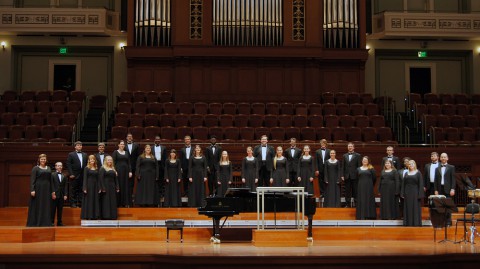 "We are headed to both Memphis and Chicago, and we always try to get to as many high schools as possible to show them our program at Austin Peay," Dr. Korre Foster, director of choral activities at APSU, said. "The tour is an opportunity to up our recruiting efforts and, besides performing for them, the high schoolers will get to interact with our students, asking them questions about Clarksville, our campus and college life."
A number of pieces will be performed at each concert, including a selection of sacred music in multiple languages, music from the American spiritual tradition, French compositions and music of Nashville-based composer Daniel Elder.
Those concerts, which are free and open to the public, will take place at the following locations:
March 3rd – United Methodist Church in Collierville, TN.
March 6th – Baha'i House of Worship in Wilmette, IL.
March 6th – United Methodist Church in Geneva, IL.
March 7th – St. John's Lutheran Church in Bloomington, IL.
Later this spring, APSU Choral Activities will present The Big Sing. The event brings a high school to campus to rehearse and perform with the APSU choral ensembles. This year, APSU is proud to welcome Paducah (KY) Tilghman High School.
The event will culminate in a 5:30pm concert, free of charge, on Tuesday, April 12th. Included in the concert will be choral music featuring piano, brass and percussion. The choral union, will perform Joshua Rist's "Invictus," the first movement of John Rutter's "Gloria" as well as Donals Patriquin's "J'entends le moulin."
For more information on these events or for a list of schools the Chamber Singers will be visiting, contact Foster at fosterk@apsu.edu.