APSU Sports Information

Clarksville, TN – Austin Peay State University football coach Will Healy has announced the addition of Carter Crutchfield to the Governors staff. Crutchfield will serve as director of operations and recruiting coordinator—the first time Austin Peay has devoted a full-time position to recruiting and operations in program history.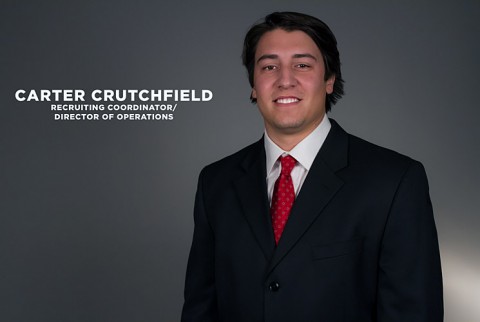 In his position, Crutchfield will oversee day-to-day operations of the football program, facilitate recruiting weekends, coordinate travel, serve as liaison to the compliance department, manage the budget and organize camp schedules.
Crutchfield comes to Austin Peay after serving three seasons in a similar position at Chattanooga. While with the Mocs, Crutchfield provided administrative support to the program and to Chattanooga head coach Russ Huesman. While at Chattanooga, Crutchfield was on a staff that won three straight Southern Conference championships and brought in the top recruiting class in FCS in 2013 and 2014, including 2015 All-American standouts Corey Levin and Keionta Davis.
During his playing days, Crutchfield was a wide receiver and three-year letterman at Tennessee Tech, including four appearances during the Golden Eagles' 2011 Ohio Valley Conference Championship season. He graduated in 2013 with a degree in Marketing.
The Crutchfield File
College: Tennessee Tech, 2013 (Marketing)
Coaching
2013-15 – Chattanooga (Director of Operations)
Healy on Crutchfield: "He's the one guy I felt like would understand what I want when it comes to recruiting. He's organized, he's innovative and he does a great job developing relationships with players and works really hard at it."
What they're saying about Carter Crutchfield
"He's one of those guys as a player I thought would make a great coach. He didn't put his ego in front of the team. He's a very smart guy, and when he told me he wanted to go into coaching I thought he'd make a great one." – Watson Brown, former Vanderbilt, Austin Peay and Tennessee Tech head coach

"Carter is a great asset for any team. I had the privilege to coach him at Tennessee Tech and he's a very positive young man on the rise in the profession. For Coach Healy and APSU, he's a great hire." Tyler Wolf, Jacksonville Jaguars assistant coach