APSU Sports Information

Clarksville, TN – Marcus West elected to follow Will Healy from Chattanooga to Clarksville and takes over as Austin Peay State University co-defensive coordinator and defensive line coach in 2016. Previously, West spent seven seasons with the Mocs, coaching the defensive line.
West's time in Chattanooga coincided with Chattanooga's rise from Southern Conference also-ran to perennial conference champion.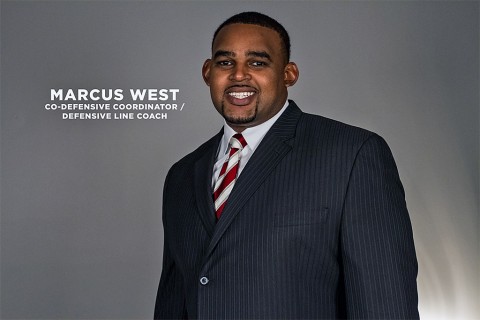 West's defensive line was key to that rise, as he churned out consistently successful pass-rushers and accrued more than 30 sacks as a unit in three of West's seven seasons—a feat accomplished just one time since 1985, prior to West's arrival.
During his time in Chattanooga, West tutored two Southern Conference Defensive Players of the Year—Josh Beard (2009) and Davis Tull (2012-14)—and five All-Americans, in addition to 14 All-SoCon selections. Beard led the FCS with 12 sacks in 2009, with Tull breaking his school record with 12.5 as a sophomore in 2012 and eventually graduating with a school-record 37.0 sacks.
Tull (a fifth round pick in the 2015 NFL Draft by the New Orleans Saints) and Derrick Lott (undrafted free agent, signed by the Tennessee Titans and currently with the Tampa Bay Buccaneers) are former proteges of West's who went on to play professionally.
Prior to his time at Chattanooga, West was the defensive line coach at Wartburg College in 2008, where he helped the Knights to a 10-3 record, a conference championship and a spot in the Division III quarterfinals.
West joined the Wartburg coaching staff following a playing career that spanned three professional leagues. His career included one-season stints with the Indianapolis Colts (NFL), Amsterdam Admirals (NFL Europe) and Hamilton Tiger Cats (CFL).
During his collegiate career, West was a stand-out University of Memphis defensive lineman, earning All-Conference USA honors in 2004 and 2005. He was a team captain his senior season and earned the program's Defensive Player of the Year award after a 2005 campaign that saw him earn honorable mention All-America honors. He participated in three bowl games—2003 New Orleans, 2004 GMAC and 2005 Motor City—as a player, winning the contests against North Texas (2003) and Akron (2005).
West married former UTC and current N.C. State women's basketball Associate Head Coach Nikki West in June 2011.
The West File
College: Memphis, 2005 (Interdisciplinary Studies)
Professional Career
2006 – Indianapolis Colts (NFL)
2007 – Amsterdam Admirals (NFL Europe)
2007 – Hamilton Tiger-Cats (CFL)
Coaching
2009-15 – Chattanooga (defensive line coach)
2008 – Wartburg College (defensive line coach)
Healy on West: "He's unbelievable at developing players on the defensive line. He's a great recruiter, has a great personality and is relationship-driven. He's a great friend who does things the right way. He's the first guy I asked to come with me, and I've got a lot of trust in him and his ability."
What They're Saying About Marcus West
"Marcus West is one of the most high-character people I was able to coach. He has a passion and enthusiasm for the game and for coaching defense that will translate to his players. I could tell during his playing days he would make a great coach, and Austin Peay is lucky to have him." – Tommy West, defensive line coach, Middle Tennessee

"Marcus was always meant to be a coach. He is an extremely capable coach with an impressive knowledge of the game. I'm proud for him and for Austin Peay." – Clay Helton, Head Coach, Southern California