Clarksville, TN – Dr. Tony Morris, Associate Professor of Art History at Austin Peay State University, has been elected to a three-year term on the Southeastern College Art Conference (SECAC) Board of Directors.
Morris earned his Ph.D. in Art History from Case Western Reserve University in 2010. With an interest in the expression of queer masculinities and artwork that challenges conventional social values, his research focuses on gender and queer identity in 20th century American art.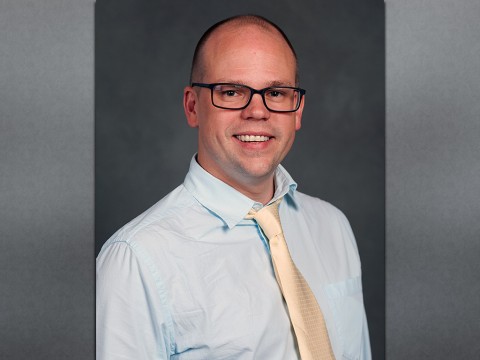 He has published an essay in American Art on Paul Cadmus and the carnivalesque. Morris has also published an interview with APSU Department of Art and Design chair Barry Jones in Number, a regional art journal servicing Tennessee, Mississippi and Arkansas.
He has frequently presented papers and chaired sessions at SECAC and the Midwest Art History Society (MAHS) conference. He has also presented on Paul Cadmus at the annual College Art Association conference, and been invited to speak at the Figge Art Museum in Davenport, Iowa on a print exhibition that paired work by Grant Wood and Stuart Davis.
Founded in 1942 as a regional conference, SECAC is now a national non-profit organization devoted to the promotion of visual art education, history, theory, design and studio practice in higher education through facilitating cooperation among teachers and administrators in universities, colleges, professional institutions and the communities served by their institutions. SECAC promotes the study and practice of the visual arts in higher education on a national basis.
SECAC also facilitates cooperation and fosters on-going dialog about pertinent creative, scholarly and educational issues among teachers and administrators in universities, colleges, community colleges, professional art schools and museums; and among independent artists and scholars.
Membership includes individuals and institutions from the original group of southeastern states that founded the conference: Alabama, Arkansas, Florida, Georgia, Kentucky, Louisiana, Mississippi, North Carolina, South Carolina, Tennessee, Virginia and West Virginia.
Over the decades, however, SECAC has grown to include individual and institutional members from across the United States, becoming the second largest national organization of its kind. SECAC is an affiliated organization of the national College Art Association and participates in its annual conferences.
To learn more about SECAC, visit www.secacart.org
For information on APSU's Department of Art and Design, visit www.apsu.edu/art