APSU Sports Information

Clarksville, TN – Junior third baseman Logan Gray had two RBI, including the game-winner, and junior pitcher Alex Robles went seven innings as Austin Peay State University's baseball team won in head coach Travis Janssen's debut, 7-1, against Bradley, Friday afternoon at Raymond C. Hand Park.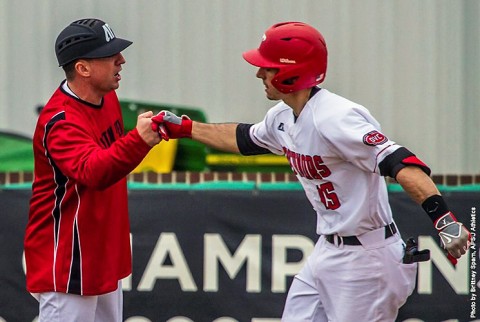 Robles (1-0) got off to a rocky start, hitting a batter and allowing a double with one out in the first inning.
He then uncorked a wild pitch to surrender the game's first run. After allowing a one-out walk, Robles ended the threat when he served up a double play ball to end the inning.
Gray helped out his teammate in the bottom of the first as he powered a solo home run against the wind to left field, tying the game. Two innings later he did his part again, reaching on an infield single that pushed home second baseman Garrett Copeland for a 2-1 lead.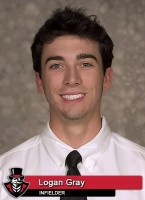 That infield hit unleashed Austin Peay's (1-0) offense, with three consecutive RBI-producing at-bats following Gray. Left fielder Cayce Bredlau was next up with a RBI double, Robles helped his cause with a sacrifice fly and first baseman Dre Gleason capped the four-run rally with a RBI single, giving APSU a 5-1 lead.
Robles made the lead stand up, following his three-up, three-down third inning by retiring the side in order in both the fourth and fifth innings. When he retired the leadoff hitter in the sixth it was a stretch of 12 consecutive batters retired by the Govs right-hander. The streak came to an end when the next batter reached on an infield single, but Robles picked off the runner and struck out the next batter to end the inning.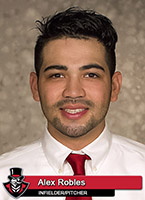 Austin Peay tacked on two more runs in the sixth, scoring on a wild pitch and a passed ball in the inning, extending the lead to 7-1. Robles ended his outing by facing four batters in a scoreless seventh inning. Freshman right-hander Brett Newberg and redshirt sophomore righty Jordan Harmon tossed scoreless innings in the eighth and ninth, respectively, to end the game and hand APSU head coach Travis Janssen a win in his first game at the helm.
Gray led the Govs with a 2-for-3, two RBI performance that included a pair of walks. Centerfielder Patrick Massoni went 2-for-4, the duo part of seven Govs who recorded a hit in the contest.
Robles picked up the win after allowing one run on four hits over seven innings. He struck out six batters and walked one.
Bradley (0-1) was held to six hits, with left fielder Evan Gruener pacing the effort with a 2-for-4 performance. Starting pitcher Matt Dennis (0-1) suffered the loss after allowing five runs on six hits and four walks over four innings. Dennis did strike out seven of the 23 Govs he faced.
Austin Peay and Bradley will resume their three-game season-opening series with a 1:00pm, Saturday contest at Raymond C. Hand Park.
Video
Logan Gray homered in his season's first AB in the Govs 7-1 win against Bradley, Friday.
Box Score
Bradley (0-1) -vs- Austin Peay (1-0)
| Team | 1 | 2 | 3 | 4 | 5 | 6 | 7 | 8 | 9 | R | H | E |
| --- | --- | --- | --- | --- | --- | --- | --- | --- | --- | --- | --- | --- |
| Bradley | 1 | 0 | 0 | 0 | 0 | 0 | 0 | 0 | 0 | 1 | 6 | 2 |
| Austin Peay | 1 | 0 | 4 | 0 | 0 | 2 | 0 | 0 | X | 7 | 9 | 0 |
W:ROBLES, Alex (1-0) L: Dennis, Matt (0-1)
Bradley 1
Position
Player
AB
R
H
RBI
BB
SO
LOB
cf
Shadid, Andy
4
0
0
0
0
1
0
3b
Gaa, Spencer
3
1
1
0
0
0
1
ss
Leffler, Tyler
4
0
1
0
0
1
0
1b
Solka, Paul
3
0
0
0
1
2
0
c
Kristan, Ian
2
0
0
0
0
0
1
c
Fairchild, Zach
2
0
1
0
0
0
0
lf
Gruener, Evan
4
0
2
0
0
1
0
dh
Garon, Jean-Francois
4
0
1
0
0
1
3
2b
Beer, Allan
3
0
0
0
0
0
0
rf
Weber, Carson
2
0
0
0
0
1
1
ph/rf
Carroll, Cody
0
0
0
0
0
0
0
p
Dennis, Matt
0
0
0
0
0
0
0
p
Olson, Ben
0
0
0
0
0
0
0
p
Scheuermann, Eric
0
0
0
0
0
0
0
Totals
31
1
6
0
1
7
6
Austin Peay 7
Position
Player
AB
R
H
RBI
BB
SO
LOB
2b
COPELAND, Garrett
4
1
1
0
0
0
0
rf
WILSON, Josh
4
2
1
0
0
1
0
3b
GRAY, Logan
3
2
2
2
2
0
0
lf
BREDLAU, Cayce
2
1
1
1
2
1
0
p
ROBLES, Alex
2
0
0
1
1
0
3
1b
GLEASON, Dre
4
0
1
1
0
2
2
cf
MASSONI, Patrick
4
0
2
0
0
1
0
pr/cf
WILLIS, Imani
0
0
0
0
0
0
0
c
SALA, Alex
3
0
0
0
0
2
0
ph
SMITH, Ridge
1
0
0
0
0
0
0
c
MARIK, T.J.
0
0
0
0
0
0
0
ss
SMITHSON, Clayton
4
1
1
0
0
2
3
p
NEWBERG, Brett
0
0
0
0
0
0
0
p
HARMON, Jordan
0
0
0
0
0
0
0
Totals
31
7
9
5
5
9
8
Bradley
Player
IP
H
R
ER
BB
SO
WP
BK
HBP
IBB
AB
BF
FO
GO
NP
Dennis, Matt (L, 0-1)
4.0
6
5
5
4
7
1
0
1
0
17
23
5
0
92
Olson, Ben
1.2
2
2
1
1
1
2
0
0
0
6
8
1
3
19
Scheuermann, Eric
2.1
1
0
0
0
1
0
0
0
0
8
8
3
3
29
Totals
9
7
6
5
9
3
0
1
0
31
39
9
6
140
Austin Peay
Player
IP
H
R
ER
BB
SO
WP
BK
HBP
IBB
AB
BF
FO
GO
NP
ROBLES, Alex (W, 1-0)
7.0
4
1
1
1
6
1
0
1
0
23
25
7
6
77
NEWBERG, Brett
1.0
0
0
0
0
0
0
0
1
0
3
4
1
2
14
HARMON, Jordan
1.0
2
0
0
0
1
0
0
0
0
5
5
0
2
13
Totals
6
1
1
1
7
1
0
2
0
31
34
8
10
104