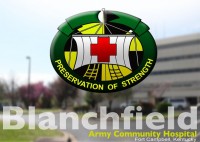 Fort Campbell, KY – As part of National Nutrition Month, Blanchfield Army Community Hospital (BACH) will host a myriad of nutrition education and information events in March aimed at promoting the importance of informed food choices and developing healthy eating and physical activity habits.
The hospital's Nutrition Care Division will kick off National Nutrition Month 7:00am to 10:30am Saturday with a display table at the Love Your Heart Run Health Fair.
The annual 10k, 5k, and 1-mile fun run is part of the 2016 Eagle Challenge Fitness Tour and begins with same-day registration at 6:30am at The Zone, 3910 Indiana Avenue.
For patrons of the Fort Campbell Commissary, nutrition tours will be available 10:00am to 11:30am March 8th, 18th, and 22nd. Team members from the Nutrition Care Division will provide the tour and offer valuable resources for making better food choices. Highlighting the 2016 theme "Savor the Flavor of Eating Right," dietitians will encourage community members to develop mindful shopping patterns that will lead to healthier food traditions and still achieve great flavors.
Wellness Walk Wednesdays will offer an opportunity to meet with dieticians while taking a lap on BACH's fitness track. Participants will meet in the A Building lobby at 7:00am, noon, and 4:00pm on Wednesdays, March 2nd, 9th, 16th, and 23rd.
Flo's Dining Facility will feature a National Nutrition Month themed meal during lunch hours, 11:00am to 1:00pm, March 30th. The menu will highlight some healthy lunch options and include a special selection of personal recipes from BACH staff.
Nutrition Care personnel at Blanchfield encourage the Fort Campbell community to join in the month's activities. In addition, they also ask that you share your own "healthy recipes" with them as part of an Army Medicine wide "Healthy Recipe Competition."
To participate in the Healthy Recipe Competition, visit BACH's Facebook page at www.facebook.com/BACH.Fort.Campbell now through March 29th and search for the Health Recipe Competition Event page, click on the event and submit your recipe in the comments section.
Nutrition Care personnel will vote on their favorite recipes and submit winners for consideration in the upcoming Army Medicine Healthy Recipe Cookbook.