Clarksville, TN – On February 28th, 2016 at 11:32pm, Clarksville Police District 1 Patrol Officers responded to a Suspicious Activity call at the 1700 block of Thistlewood Drive. A Clarksville citizen reported that a young white male in a white shirt and black pants was walking around the cul-de-sac looking into cars.
When the first Officer arrived, he observed an individual matching that description running behind the 1729 Thistlewood Drive building. The individual who ran behind the building was Joseph Hnosko.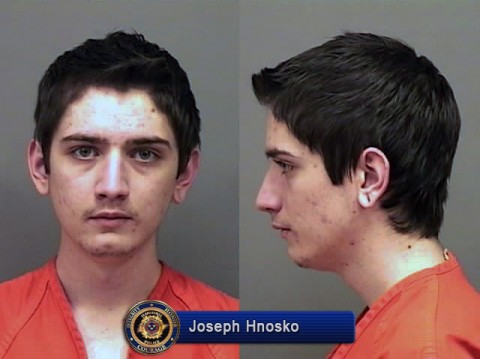 The Officer located stolen items right next to the area from which Hnosko ran, including a pair of headphones he was seen wearing earlier by the witness.
He admitted that he stole the headphones from a vehicle in the area. Officers stayed in the area looking for other vehicles that may have been targeted by Hnosko.
There were, at least, three vehicles that were burglarized. Two of the vehicles had damage, due to the burglaries. Detective Andy Hurst continued the investigation, which led to Hnosko's arrest.
21-year-old Joseph Hnosko was taken to Montgomery County Jail and charged with Vehicle Burglary x3. His total bond amount is $60,000.
Teamwork
Due to the citizen that reported the suspicious activity, the Officers and the Detective were able to stop Hnosko from victimizing other citizens.
We encourage all citizens to report suspicious activity when it is observed.
What number should you call when you are observing suspicious activity? 911
Joseph Hnosko
Name: Joseph Hnosko
Gender: M
Race: W
Address: Timberridge Drive, Clarksville, TN
Arresting Officer: Stephen Hurt
Charged With: Three Counts of Vehicle Burglary
Booked Into: Montgomery County Jail
Bond: $60,000.00