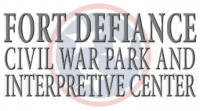 Clarksville, TN – On Saturday, March 19th, 2016, Clarksville author Michael Shoulders launched his new book "Crossing the Dead Line" at the Fort Defiance Interpretive Center.
He was there from 1:00pm until 3:00pm reading from his book, signing copies and answering questions from those in attendance. One couple came all the way from Knoxville Tennessee to attend the event.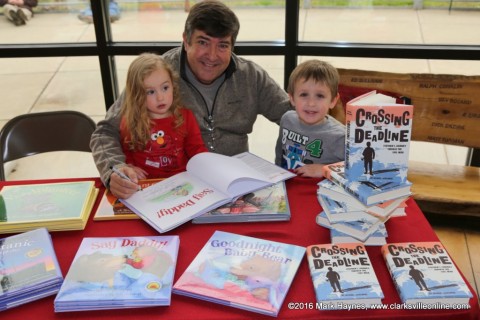 Copies of "Crossing the Dead Line" along with several of Shoulders' other books were available for purchase.
"I have a debut novel, 'Crossing the Dead Line', takes place during the Civil War. It ends up on the worst ship disaster in America's history. More than 200 more died than on the Titanic and it happened in Tennessee," said Shoulders.
"Crossing the Dead Line" is about a 13 year old boy named Stephen Gaston. When Stephen's father passes away in 1861, he and his mother and brother are left at the mercy of a cruel uncle. As the Civil War intensifies, Stephen's brother enlists to fight for the Union and help support the family.
The war drags on and Stephen, an accomplished bugler in the town band, witnesses the sad consequences of slavery. The opportunity to enlist as Colonel Eli Lilly's personal bugler arises. After surviving the Battle of Sulphur Branch Trestle in Alabama, Stephen is sent to a Confederate prison.
The trials of prison life are severe but at war's end Stephen is sent home aboard the steamboat Sultana. However, disaster strikes and the ship becomes America's worst maritime disaster with 200 more lives lost than on the Titanic.
"Crossing the Dead Line" is the fourteenth book by Shoulders. Other books include "Say Daddy!", "M is for Money" and "T is for Titanic".
Shoulders attended Austin Peay State University and received an education degree in 1976. He was the Federal Programs Supervisor for the Clarksville-Montgomery County School System in Tennessee. He provided assistance to all 30 schools before retiring in 2005.
He now writes and travels, visiting schools across the United States and Europe. He provides in-service training to teachers on literacy issues and discipline, and speaks at conferences.
To learn more about author Michael Shoulders and his books, visit www.michaelshoulders.com
You can purchase his books at www.mkt.com/michael-shoulders
Listen to Michael read the prologue to "Crossing the Dead Line"