APSU Sports Information

Carbondale, IL – Although APSU women's golf team ended in fourth place, Monday, in the Saluki Invitational, Austin Peay State University head coach Sara Robson was anything but disappointed in its performance at Hickory Ridge Golf Course.
"I am really proud of the way the team went out to win this tournament," she said. "They played the front nine great—we had a couple of hiccups here and there. In reality we didn't play one hole (No. 15) well this tournament and it hurt us."
Sunday, APSU lost five shots on that dogleg right, 490-yard Par 5 hole (second shot is over a hazard) and Monday saw it lose seven. The Lady Govs shot a final round 311 to finish at 615. It left them five shots behind IUPUI and William Woods—IUPUI won in a playoff. Host Southern Illinois was third at 613.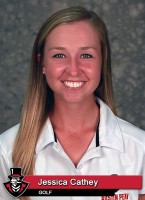 "We never got our heads down (after that hole)," Robson said. "We continued to plug away, kept battling the final holes…some had to play five more holes."
Senior Jessica Cathey was one Lady Gov who avoided the trouble. In fact, with five birdies she fired a final-round 2-under 70, Monday, to capture medalist honors at even-par 144. It was her season's second medalist honor and third overall (she also had the low score in APSU's dual match with Belmont).
"Jessica really played well," Robson said. "We said yesterday we just needed some putts to fall and that is what happened today. She had some great up and downs. She played so well today that she shot 2-under and she had three three-putts."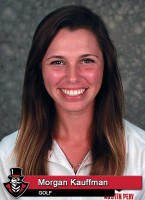 Sunday saw all five APSU golfers shoot under 80. Tuesday it was Cathey and junior Morgan Kauffman, who fired a 77. Freshman Ashton Goodley had an 80 while twin sister Taylor Goodley ended with an 84. Sophomore AnnaMichelle Moore ended with an 86.
"We are playing with a lot of confidence right now—a 311 is not a bad score, just not good enough today," Robson said. "We are really, really close. Certainly, we are disappointed we lost but we are learning—we were in that last group and we played aggressively, we played to win and we didn't play not to lose.
"We just have to be patient and peak at the right time. They know they can do it. They have the talent to do it and they have the games to do it. They saw this week what taking a game plan to the course looks like. We need two more solid weeks of play. Our plan is have them ready to play at the OVC championship (Owens Cross Roads, AL, April 18th-20th)."
Box Score
Saluki Invitational
Hickory Ridge
Carbondale, IL
2016 Saluki Invitational
| | | | | |
| --- | --- | --- | --- | --- |
| Pos. | School – Players | Round 1 | Round 2 | Totals |
| 4 | Austin Peay State University | 304 | 311 | 615 |
| 1 | Jessica Cathey (1) | 74 | 70 | 144 |
| T 14 | Morgan Kauffman (3) | 77 | 77 | 154 |
| T 21 | Ashton Goodley (4) | 77 | 80 | 157 |
| T 40 | Taylor Goodley (2) | 78 | 84 | 162 |
| T 40 | AnnaMichelle Moore (5) | 76 | 86 | 162 |
| | | | | |