APSU Sports Information

Owens Cross Roads, AL – After a spring that saw it continually build momentum, Austin Peay State University women's golf team will seeks its first Ohio Valley Conference title when it travels to The Robert Trent Jones Golf Trail at Hampton Cove, Monday-Wednesday, to participate in the 2016 league championship.
The three-day, 54-hole tourney—18 holes per day—will be played on The Highlands Course, a challenging par-72, 6,050-yard Scottish Links layout.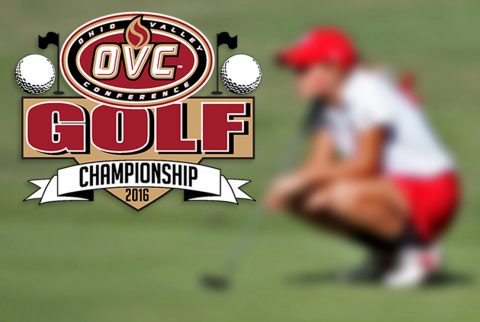 The terrain almost is completely different on each side of the course, with an old mule barn lining No. 5. This is the second time—and the second straight year—the women's tournament has been held at Hampton Cove.
The OVC women's title will be contested by the 10 universities that sponsor the sport – Austin Peay, Belmont, Eastern Illinois, Eastern Kentucky, Jacksonville State, Morehead State, Murray State, SIU Edwardsville, Tennessee State and Tennessee Tech. The tourney will tee off 8:00am, Monday after a Sunday practice round. Eastern Kentucky is the defending champion.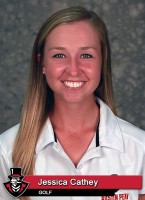 "We have had a great spring season and have been on the verge of playing very well." APSU coach Sara Robson said. "We are ready to play some great golf at the OVC Championship. They are excited, focused and ready to show what they can do.
"The team is playing with great confidence and determination. They have worked hard all semester with no exception to this week."
APSU will be taking a team mixed with experience and youth. Three (Jessica Cathey, Morgan Kauffman and AnnaMichelle Moore) of the five players played in last year's championship, but Cathey is the program's lone senior—Kauffman is a junior and will play behind Cathey at No. 2 while Moore is a sophomore.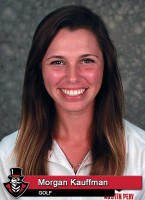 The other two slots will be manned by the Goodley twins—Taylor and Ashton. An extremely youthful team finished seventh a year ago. However, Robson believes this year's team has the proper mixture to make a run for the championship, especially since her team has been more than competitive against her OVC foes this season.
"It is our plan to make a run for the championship title," she said. "I have never had a team want it so bad. These girls have the tournament experience and have tasted success both individually as well as a team this year and they are determined to do what they can to put us in position to win. We can control our thoughts, focus, attitudes, how aggressive we play and how much we trust ourselves.  If we do that well we will be successful."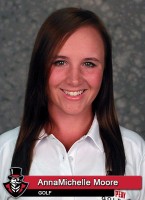 Cathey is coming off a terrific spring, recording four Top 10 finishes in five outings, including two medalist honors. She has three for the year. She is averaging 76.48 for the year, but one-half stroke less during the spring. Cathey owns an impressive team-best 77.4 winning percentage this season.
It is freshman Taylor Goodley with APSU's second best win percentage (71.4). The El Dorado, Illinois native own 17 rounds in the 70s in her first season en route to a 78.24 scoring average. Twin sister Ashton and Kauffman own the same winning percentage (58.6) but the latter has APSU's third-best scoring average at 79.56 while Ashton Goodley is at 80.23 strokes per round.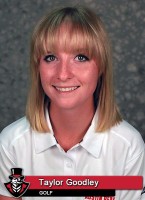 Moore, meanwhile, will operate out of the No. 5 spot in lineup. After struggling fall, the sophomore bounced back in the spring to earn the final lineup spot. She averaged 83.56 per round for the year.
"Jessica has had a great career, with this being her most successful year," Robson said. "She wants to win a championship, and her team wants to help her do that. It will take all five players playing well for us to win, but we look for Jessica to lead that charge. The best way for Jessica to go out is by playing at regionals with her team."
To do that APSU will need to receive four solid scores each day. To do that, it will have to eliminate mental mistakes which will play a large role in avoiding the big numbers. Robson has great ambition for her team to be in the final group (Top 3) heading to the final day.
"We will need to stay focused on one shot at a time, be aggressive and trust ourselves," Robson said. "These girls have the talent and determination to be in the final group on Wednesday. We just have to control our swing tempo and trust ourselves.
The annual awards banquets will be held following the first round of play on Monday. The banquet will honor the 10-member All-OVC team as well as the All-Newcomer Team and Freshman of the Year. The OVC Player of the Year, Coach of the Year as well as All-Tournament and Tournament MVP awards will be presented at the conclusion of the championship.