Clarksville, TN – Family, friends, and coworkers proudly watched as Montgomery County Sheriff John Fuson conducted a swearing in ceremony for seven new deputies Monday afternoon, May 2nd, 2016.
All seven deputies have been assigned to the Detention Division.
Jeffrey Cranfield, Austin Esposito, James Harbison, Eric Hitch, Nathaniel Hodge and Mack Little have been assigned to the Montgomery County Jail.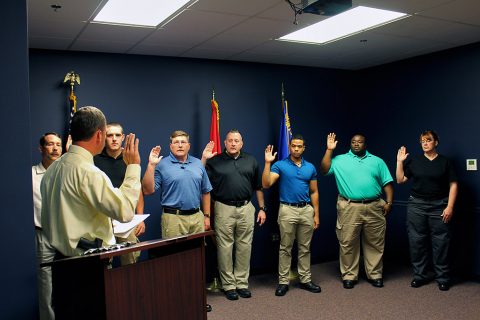 Heather Overbye has been assigned to booking.
"It is always an honor to be a part of the first step that new employees take into public service," said Sheriff Fuson.
"We have an aggressive selection process, which you have already gotten through. The next step is to ensure that each of you receive the training to help build a solid foundation for a successful future at the Sheriff's Office. I wish you luck and welcome you to the MCSO family," said Fuson as he addressed the deputies.