Clarksville, TN – On Saturday, May 14th, Beachaven Winery's concert series 'Jazz on the Lawn' starts another season this Saturday, May 14th with music by Randy Moore and the Fabulous Suedes.
The music starts at 6:30pm and goes until 9:30pm.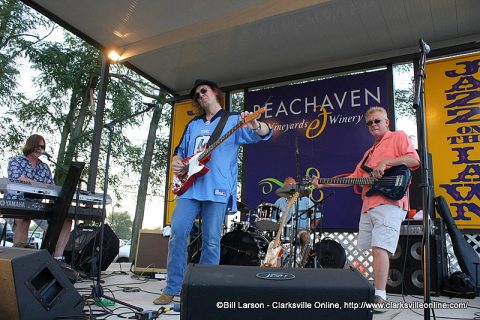 Because seating is "general admission," it pays to get here around 5:00pm to get both a good parking spot and a good viewing spot on the lawn.
Admission to the concert is free along with free parking.
As always, there are some terms and conditions called the "Rules of the Beach".
Please bring with you: your friends, a picnic, and a blanket and/or lawn chairs.
Please DO NOT bring with you: pets, grills, and outside alcohol. Also, please pick up your trash! There are  dozens of trash receptacles provided around the lawn.
This year for only $20.00 you get VIP parking for the entire season.
Beachaven Vineyards and Winery is located at 1100 Dunlop Lane, Clarksville, TN.
For more information, call 931.645.8876 or visit their website at www.beachavenwinery.com
DJ on the Dock
Beachaven holds "DJ on the Dock" every alternating Thursday. It features DJ Zio playing tunes on the loading dock from 4:00pm until 7:00pm. There will be discounted wines, beach games, dancing, relaxing and a food truck.
The next "DJ on the Dock" will be Thursday, May 19th, 2016.
Map
About the Beachaven Vineyard and Winery

The Beachaven Vineyard and Winery has been in business for 30 years. The Winery walls are covered with over 550 award-winning medals from regional, national, and international competitions. The winery has taken Best of Show awards with their wines on 11 occasions. Visiting the Beachaven Vineyards and Winery is a unique experience; as they try to make wine tasting, and wine education fun!
You can also bring a picnic basket and go to use the Winery's picnic area anytime. "I think it's great that people come in and buy a bottle of wine, then go out to the picnic area to enjoy it with their family and friends. Especially on a nice day it is a wonderful thing to do together," said Louisa Cooke. "Beachaven Vineyard and Winery also offers free tours," she continued, "Anyone who would like to come out and take a tour is more welcome to do that!"