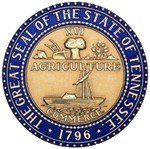 Nashville, TN – This week, the Family Action Council of Tennessee, a prominent conservative organization in the state, announced they have awarded State Representative Jay Reedy (R–Erin) with the 'Family Champion' award — the organization's top honor available to lawmakers.

The Family Champion designation is given only to those legislators who have a perfect 100% voting record on legislation related to the promotion of family, life, and religious liberty.

"Those legislators who have received our highest designation as a Family Champion are those whose votes have shown that they understand the critical importance of marriage, family, life, and religious liberty to the future well-being of our state," said Family Action President David Fowler. "We heartily applaud their unwavering stand on behalf of the families of Tennessee."

The Family Action Council of Tennessee (FACT), the educational arm of Family Action of Tennessee, works to equip Tennesseans and their elected officials to effectively promote and defend a culture that values the traditional family, for the sake of the common good. FACT's scorecard ratings are based on state legislators' support of or opposition to legislation concerning issues considered important to the Christian conservative organization.

Legislation receiving Reedy's vote included resolutions supporting challenges to the U.S. Supreme Court's Obergefell v. Hodges decision, urging Congress to protect state's rights, requiring abortion clinics to be treated as ambulatory surgical treatment centers, and enacting a 48-hour waiting period prior to abortion, each of which were signed into law by Governor Bill Haslam.

"I'm honored to have been rated so highly by the Family Action Council of Tennessee for 2015-2016 legislation," Reedy says. "These issues are critical to our citizens and families. It is important to me to stand up for their beliefs and take action in Nashville on their behalf."

The voting records of all incumbents on legislation followed by Family Action of Tennessee can be found at http://goo.gl/Xj1dVr

Jay Reedy serves on the House Agriculture Committee and Subcommittee and the House Business and Utilities Committee. He lives in Erin and represents House District 74, which encompasses Houston County, Humphreys County, and part of Montgomery County. He can be reached by email at or by calling 615.741.7098.



Sections
Politics
Topics
Bill Haslam, Erin TN, Houston County, Humphreys County, Jay Reedy, Montgomery County, Nashville TN, Tennessee Governor, Tennessee State Representative, U.S. Supreme Court