Montgomery County, TN – The Montgomery County Master Gardeners Association will be hosting the 2016 Garden Tour on June 18th from 9:00am till 3:00pm. Six gardens will be available to view with Master Gardeners at all sites to assist and answer questions.
It is a self-guided tour which also offers a variety of crafts, yard art, birdhouses, herbs and plants at the different gardens.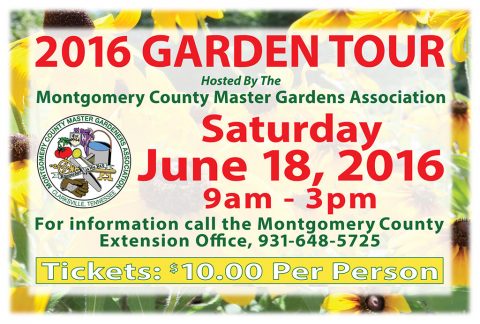 Three of these gardens have the distinction of being chosen to feature on Channel 8 NPT Volunteer Gardener – the Tonner garden was featured last year and the Browder and Smith gardens are being filmed this week.
Tickets are $10.00 per person and can be purchased in advance at Mary's Garden, Simply Brigitte, Clarksville Quick Printing, Pleasant View Nursery, Salon 201, Montgomery County Extension Office or at any of the gardens on the day of the tour.
Yard art, outdoor crafts, birdhouses, local honey, herbs, stepping stones, and assorted annuals & perennials will be available at the Garden Tour sites.
2016 Garden Tour Sites
Dewey and Helga Browder
1219 Willow Bend
Jim Conatser's Gardens
1921 Cumberland Heights Road
Tim and Kimi Dove
3085 Lake Road
Donald and Barbara Jones
660 Salem Road
Durell Jr. and Marsha Smith
424 West Park Street
Guthrie, KY
David and Angie Tonner
1490 Willow Bend Court