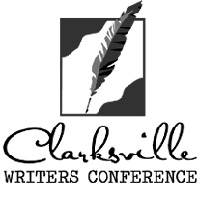 Clarksville, TN – From comic book contributors to best-selling romance writers to illustrators and more, the writers at this year's Clarksville Writers' Conference, sponsored by the Clarksville-Montgomery County Arts and Heritage Development Council, was again not only informative but full of essential hints that lead would-be-writers to success.
A heavy emphasis on self-publication was a new feature for conference goers. Many of the authors were either Clarksville or Middle Tennessee natives, including the keynote speaker Jim Squires or Crockett White, a Nashville native and author of West End among several other books.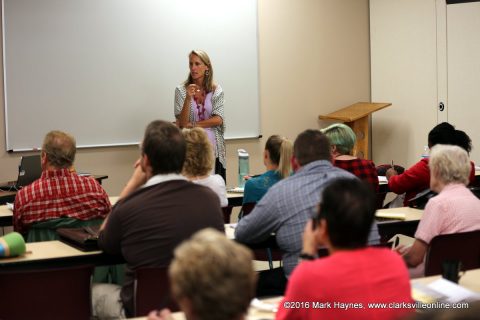 Jacob Rougemont, one of the last speakers on Friday, began his career that ultimately led to Marvel Comics, as a child in grammar school when he brought himself in a somewhat negative way to the attention of the teacher by constantly drawing comic book figures rather than working on class assignments.
Now working for Human Resources in the Clarksville-Montgomery County School System during the day, he is a freelancer for books like the Official Handbook of the Marvel Universe (2004).
Tamara Leigh, who published romance novels set in medieval times for big publishers like Bantam, HarperCollins and Random House, has become an indie publisher who shared her journey with conference goers.
Her twelve medieval romances include a five-book series, Age of Faith, and a more recent series, The Feud. She revealed that her income improved significantly once she left the big publishing houses and went out on her own.
Scott Dannemiller was the crowd-pleaser of the conference with his quiptic descriptions of the year his family decided on not purchasing anything that was not consumable. This led to his book, The Year without a Purchase: One Family's Quest to Stop Shopping and Start Connecting.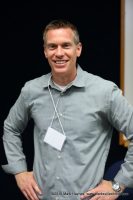 Having been featured on television venues like Good Morning America, MSNBC, Today.com and FABLife, Scott told stories of the hard decisions like when every other kid on the basketball team was getting expensive socks that his son was not the recipient of.
It turned out that by the second game, no other kid was wearing the socks either! Many conference goers agreed that a sitcom based on the Dannemillers' experience was one they would watch.
Michel Stone, a former English teacher, insisted that there is no golden handshake in the world of writers, but that the old adage, "Put your fanny in the chair," proves to be the best advice and the road to success. She asked her audience to write two three-minute paragraphs.
The first was about an everyday object with which each was familiar. The second was about placing that object some place the writer had never been. She said that this exercise had led her to write her first book, The Iguana Tree, developed from a short story, "Dance of the Coyotes." She also advised writers to read Elizabeth Gilbert's book, Big Magic.
She told about her early frustrations that resulted in her writing a letter to Brett Lott, and many years later writing to tell him how much the letter he had written back to her had meant. She heard from Lott that her second letter had come at significant time in his life that made his frustration level descend as he realized that letters like hers were what kept him going as well.
Ms. Stone's forthcoming novel, Border Child, is in the process of becoming a television show so her persistence through the ups and downs of writing is paying off.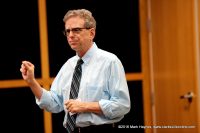 Steven Womack, author of 11 novels, has won numerous prizes; for instance, the Edgar for Dead Folks Blues and the Shamus for Murder Manual. He spoke on the disaster for writers that the big publishing houses have become.
Speaking on "The Writer's Survival Camp," he described how writers of fiction are truly professional liars and are thought of as delusional or crazy people by other people.
He admonished writers to use Kindle Fire to self-publish because the writer can do it all in one place. Readers can no longer tell the difference in self-publication and having a big publisher produce one's book.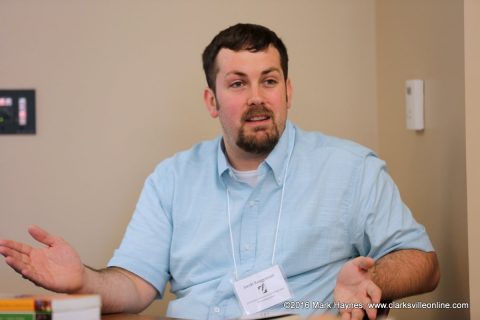 All writers need to have Facebook, Twitter and Linked In accounts for promotion. Traditional publishers now have editing committees, rather than an editor who works with you; most decisions are ultimately made by the marketing committees. There is no longer a stigma if you publish independently.
Lawyer and author Beverly Fisher focused on "Researching and Writing the Historical Novel." Author of Grace Among the Leavings, Fisher based her novel on partial family history and imagination in addition to research.
The novel was made into a play by her brother-in-law, a musician who lives in Illinois. Certain changes were made; for instance, the child in the book is about six to eight years old but is 11 in the play.
The production will be performed in Clarksville at the Roxy Theater on June 20th, 21st, 27th and 28th at 8:00pm each night. The script has been revised nine times to date. The book was written with no dialect so is easier to read.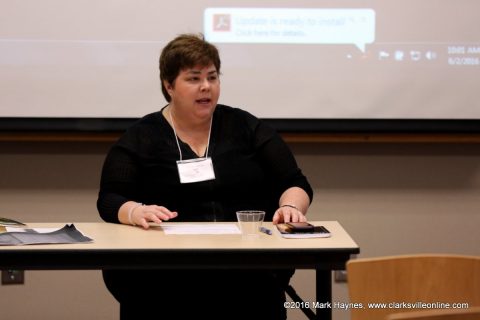 Jennifer Rawls, also an attorney, is currently director of communication and public information officer for the City of Clarksville. She spoke on The Vote, her debut novel that describes the role Tennessee played in the ratification of the 19th Amendment giving women the right to vote in elections.
Rawls previously served as executive director of the Tennessee Economic Council on Women, after having practiced law for 15 years. She learned through her work at the council that many women still do not vote, or else vote for whomever their husbands tell them to vote. She based her research heavily on "The Perfect 36" a reference to the 36 states required to ratify the amendment.
Rawls advised writers to go where their plot occurred if possible, thank people who help you along the way, search in unusual places for things like speech habits of the time (for instance, "slang for 1920" on google.com), and use cards at Cracker Barrel that give events for each year on birthday cards.
Joanne F. Miller spoke on "A Hobby, A Legacy or A Best-Seller?" She reminded her audience that 58 percent of the United States population never reads another book after high school and women buy 68 percent of all books.
Also, 42 percent of all college graduates never read another book and people 55 and older buy one-third of all books.
With these statistics in mind, writing can have many purposes. Some writers who ghost write for other people get $250,000 for a biography. Others end up losing everything when they invest too heavily in writing.
She strongly advised all writers to build up a platform on social media so they will have a following who are eager for the writer's next publication. Miller also said that some editors charge about $1,200 to edit your book so you need to learn your craft but not rely wholly on your own reading of the book to find errors.
For cover design, she suggested 99Designs.com, Crowdspring.com and Fiver.com (where everything is $5.00).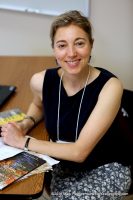 Your book must be camera ready when you self-publish which is the way to publish now according to most speakers at the 2016 conference.
Since two lectures occur simultaneously, reporters must miss some speakers. Also speaking at the conference were Alison Davis Lyne ("Making a Picture Book from Manuscript to Book Shelf"), and Amy Wright ("The Concrete Essay: Drawn Text Isn't Just to Poets Anymore" and "Butterflies, Damselflies and Ladybugs: The Lyric World Beyond Birds").
Photo Gallery