Nashville, TN – The Tennessee Department of Mental Health and Substance Abuse Services and its Commissioner E. Douglas Varney join in welcoming Dr. Stephen Loyd, Internal Medicine physician and Johnson City native, as the agency's newly, appointed Medical Director for the Division of Substance Abuse Services.
In announcing to department staff the assignment of Dr. Loyd, Commissioner Varney expressed his appreciation in having a physician with Loyd's credentials and clinical experience. In his role, Dr. Loyd will address addiction in Tennessee as a disease while reducing stigma associated with treatment and recovery.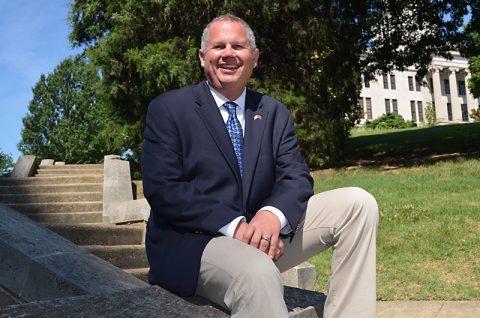 "A big part of removing stigma and shame is to talk about addiction as you would any other disease that's treatable" said Commissioner Varney. "Dr. Loyd has walked the walk. He is going to help lead many Tennesseans into recovery from their addiction, helping them get better and ultimately, hopefully melt away the shame."
Dr. Loyd knows the pain of addiction firsthand. In 2004, as a practicing Internist in his hometown of Johnson City, he became addicted to prescription drugs. While feeding his opioid and benzodiazepine dependence, he often worried that one day his habit would lead to an early death.
"I am very fortunate," said Dr. Loyd. "My father intervened and I received excellent treatment for my addiction. I returned to practicing medicine and eventually became the program director for the Internal Medicine residency program at Quillen College of Medicine at East Tennessee State University."
From there, Dr. Loyd joined the Mountain Home Veterans Administration Medical Center in Johnson City, as its Chief of Staff for Education. He supervised the residency training program. Within a couple of years he was appointed Chief of Medicine.
"Over the course of roughly ten years, my focus as a physician shifted to the disease of addiction," said Dr. Loyd. "My own experience dealing with shame helped me connect with people who I would have never been able to reach if it was not for my own experience. The more we can bring addiction out of the shadows, the more people and families will be healed."
"I admire Dr. Loyd for embracing recovery and his openness and honesty about his past," said Commissioner Varney. "His ability to speak freely about addiction, from a first-hand perspective, truly has the potential to save lives. The less judgmental we are, the more opportunity we have to help people recover."
Given the fact more people die each year in the U.S. from accidental overdoses than in motor vehicle accidents, Dr. Loyd sees addiction as a disease that touches every American.
"In my opinion, addiction is the number one health problem in the United States," said Dr. Loyd. "Nearly everyone is aware of the widespread abuse of painkillers and the rising incidence of heroin use.  With all the attention, there's been more need to identify solutions and ways people can access help and treatment. Tennessee is leading the way at the local and national level, and we're seeing real change."
Dr. Loyd points to key initiatives in Tennessee that have dramatically reduced the availability of prescription drugs and other harmful substances as well as opportunities for people to acknowledge they have a problem to get help.
"The approach to reducing substance abuse is beginning to shift from limiting supply to decreasing demand, and getting more people into treatment," said Dr. Loyd.
In Tennessee the Prescription Safety Act of 2012 is addressing the issue of over-prescribing of opioid pain medication and has resulted in a drop in the number of prescribed morphine equivalents.
Multiple drug treatment courts in Tennessee, in partnership with law enforcement and judges, are advocating for treatment rather than punitive options.
Physicians are talking with patients about substance abuse through a program in Tennessee called Screening, Brief Intervention and Referral to Treatment (SBIRT).
"We are grateful to have Dr. Loyd on our team, as someone who is open and willing to share his own experience," said Commissioner Varney. "His message resonates with people caught up in addictive behaviors and those caring for friends and loved ones struggling with substance use issues."
"I try to live my life by the Stockdale Paradox," said Dr. Loyd. "We will confront the most brutal facts of our current reality, whatever they might be while at the same time, keeping the faith that we will prevail in the end, regardless of the difficulty. I'm a believer in preserving life and I remain optimistic. I feel everyone with addiction deserves a chance at recovery, and that is my motivation every day. This is a battle worth winning."