APSU Sports Information
Troy, AL – Austin Peay State University's volleyball team pieced together an impressive offensive performance in a three-set victory against Southern, Saturday afternoon, at the Trojan Invitational at Trojan Arena.
Austin Peay (3-3) didn't get out to the smoothest of starts as it battled serving woes early in the first set.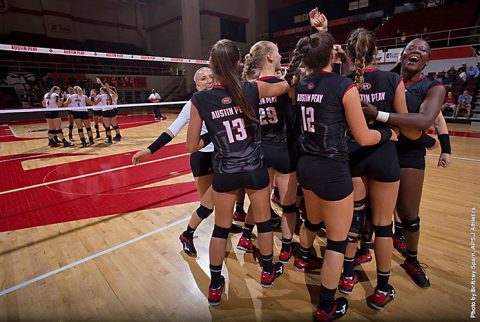 That allowed Southern to stay close up until the set's midpoint.
But at 11-11, the Govs offense started to find its voice led by freshman Kaitlyn Teeter, who had three kills as part of a 5-1 run.
Southern would get back within a couple of points but could not keep pace down the stretch as a 6-2 APSU run put the set away.
The Governors wasted little time in the second set, using a 4-0 run to take a 7-3 lead and never looked back. Austin Peay nearly led the third set wire-to-wire, breaking away with a 6-1 run to build a 9-4 advantage en route to the match-winning victory.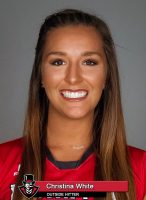 Austin Peay set a season-high with a .375 attack percentage and its 47 kills were its most in a three-set match this season. The offensive outburst helped it overcome and uncharacteristic 14 service errors, though Southern also committed seven service errors as well.
Junior Ashley Slay posted 10 kills in an errorless attack effort to finish with a .556 attack percentage. Sophomore Christina White and senior Sammie Ebright each had seven kills.
Southern (1-5) was held to 22 kills and a .045 attack percentage. Arabella Hall led the Jaguars with nine kills.
Inside the Box Score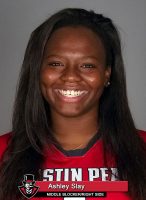 Slay Tames Jaguars
Junior Ashley Slay had the Govs only double-digit kill performance, posting 10 of the team's 47 kills. However, she also finished the game without an attack error on 18 attempts and finished the match with a .556 attack percentage.
Mott Changing It Up
Head coach Taylor Mott had an opportunity to experiment with her offense and took advantage. In the first two sets she utilized a 5-2 system, swapping setters Kristen Stucker and MiMi Arrington in the front and back row, respectively. In the third set, Mott turned to a 6-2 offensive system. Stucker finished with 19 assists while Arrington notched 11 assists and also notched her first collegiate kill.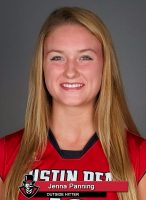 Panning Ends It
Freshman Jenna Panning's first kill as a Governor will be a memorable one as it came on match point against Southern. She was inserted into the rotation late in the third set and had three swings, connecting on her final try.
More Slay Roofing
Slay continued her recent torrid blocking pace, picking up four blocks in the three-set decision. She now has 14 blocks in her last three matches (10 sets) – an impressive 1.40 blocks per set.
---
Austin Peay concludes its stay in Troy with an 11:30am, Saturday contest against Valparaiso.