Written by 1st Lt. Daniel Johnson
2nd Brigade Combat Team, 101st Airborne Division (AA) Public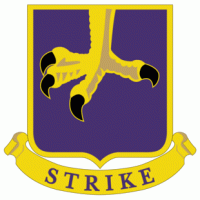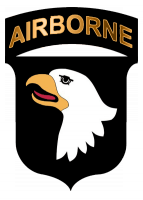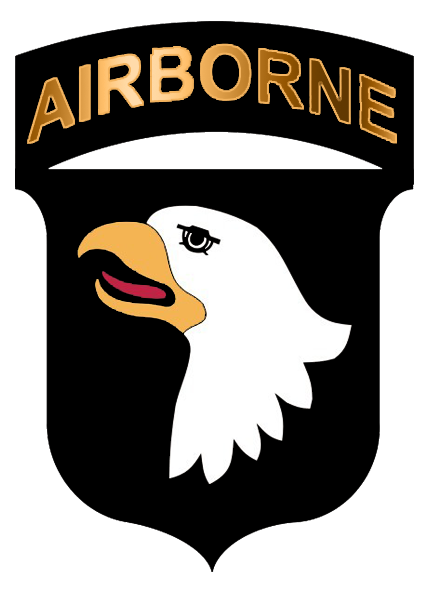 Erbil, Iraq – Soldiers with 2nd Battalion, 502nd Infantry Regiment, Task Force Strike, enable the Kurdish Regional Government's Peshmerga forces to defeat the Islamic State of Iraq and the Levant through advise and assist, and train and equip missions.
"We are partnered with the Ministry of Peshmerga," said Lt. Col. Edwin Matthaidess, commander of 2-502nd, also known as Task Force Falcon. "The MOP is part of the Kurdish Regional Government and is one of the security elements, per the Iraqi constitution, that makes up the Iraqi security forces. It is comprised of 14 regional guard brigades, which makes up their main combat power. As part of our advise and assist duties, we focus on the manning, training, and equipping."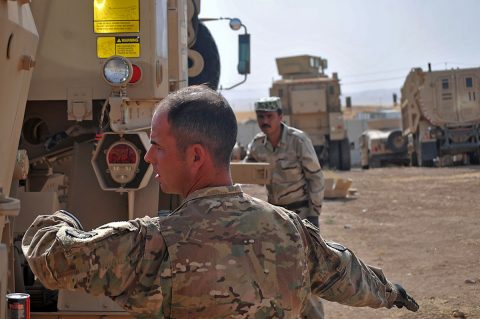 Task Force Falcon works alongside Coalition partner nations at the Kurdish Training Coordination Center near Erbil, Iraq. The KTCC is one of four Combined Joint Task Force – Operation Inherent Resolve building partner capacity locations dedicated to training Iraqi security forces.
"We synchronize equipment and training with [the KTCC]," said Matthaidess. "We make sure the Peshmerga can get to that training so that they can then go out and fight Da'esh (another name for ISIL)."
During one mission, Task Force Falcon Soldiers, alongside other Coalition partners, conducted drivers' training with Peshmerga soldiers using vehicles they would be issued later that week. This was done as part of the Iraq Train and Equip Funding program facilitated by Combined Joint Task Force – Operation Inherent Resolve, which provides essential weapons and equipment to ISF as part of the building partner capacity mission.
"There are two brigade equipment sets with [everything] from bandages to body armor – everything a brigade would come with," said Matthaidess. "[The Peshmerga] come in one side with nothing and leave fully equipped from U.S. stocks and fully trained from the KTCC and then get back into the fight. We also do ITEF sustainment support, which includes food, fuel, ammunition, medical supplies, and repair parts. We facilitate all those support products."
Task Force Falcon Soldiers also visit the regional guard brigades to get a better understanding of the conditions on the ground. Soldiers talk to their Peshmerga staff counterparts to check facilities and systems.
"What a normal [regional guard brigade] recon consists of is a conditions check on war fighting functions," said 1st Lt. Vincent Christiano, fire support officer for Task Force Falcon. "We evaluate their personnel management, operations process, supply management and communications. We also look at their battle space awareness."
These evaluations include checks on sustainment tasks, such as whether their personnel officer is accurately tracking force numbers and whether their supply officer is tracking what they have and what they need. Both are critical to supporting and maintaining the front line, explained Christiano.
As part of both CJTF-OIR and Task Force Falcon's mission to build the fighting capacity of forces combating ISIL in Iraq, the ISF has taken the lead in combat operations. This marks a noticeable change from previous campaigns in which Coalition nations fought side-by-side on the front lines with Iraqi forces.
"[We] are going to coach them through and give them the advice, but at the end of the day [the ISF makes] the decisions," said Matthaidess. He is proud of the work his unit is doing alongside the Peshmerga and feels they are contributing greatly to the overall success of Operation Inherent Resolve.
Recently, Peshmerga forces launched a major offensive as part of an ongoing campaign. Over a dozen villages were seized as Peshmerga forces took territory from ISIL, increasing security in the area.
"Thirty-three thousand Peshmerga are fed a month. Eleven of 14 guard brigades are fueled. This enables their offensive operations," said Matthaidess. "Our ability to sustain more than 1,000 km of front line with the Peshmerga has a lot to do with the hard work of the Soldiers."