Tennessee Athletics Department
Vols lose second straight game to a Top 10 team on Saturday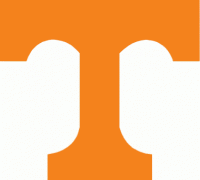 Knoxville, TN – No. 9/11 Tennessee fell to No. 1/1 Alabama 49-10 on Saturday at Neyland Stadium.
Alabama jumped out to a 14-0 lead, but Tennessee (5-2, 2-2 SEC) pulled within seven in the second quarter after forcing a turnover in Crimson Tide territory. Derek Barnett got around the edge and forced a fumble by quarterback Jalen Hurts. Quay Picou recovered the ball to set the Vols up at Alabama's 11-yard line.
Two plays later, Alvin Kamara rushed seven yards up the middle on a read-option play to bring the score to 14-7.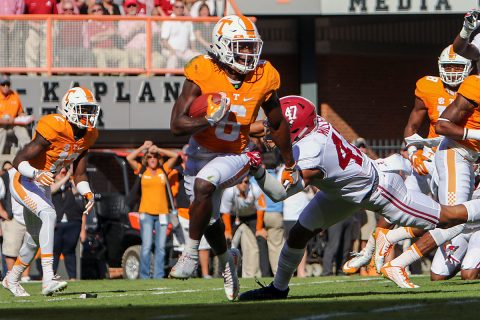 Alabama (7-0, 4-0 SEC) opened the scoring with an eight-play, 91-yard drive capped by a reverse handoff to ArDarius Stewart, who came from the right side of the formation and took the ball 29 yards into the left corner of the end zone.
The Crimson Tide pushed its lead to 14-0 when Ronnie Harrison picked off Joshua Dobbs on a screen pass intended for Jalen Hurd and returned the ball 58 yards for a touchdown with 14 seconds left in the first quarter.
Alabama responded after Tennessee's score as Hurts held the ball on a read-option and took it 45 yards off the right side for an Alabama score.
Tennessee kept Alabama off the scoreboard twice near the end of the second quarter as Shy Tuttle deflected a pass by Hurts and Barnett caught the ball for the first interception of his career. After a UT punt, Alabama drove the ball into field goal position, but Adam Griffith missed a 37-yarder as time expired, keeping the score at 21-7 entering halftime.
Alabama added another score on their second possession of the third quarter. The Crimson Tide traveled 51 yards in five plays as Hurts hit Stewart on a 23-yard crossing pattern and followed that with a 21-yard rush to the right, before punching it into the end zone from two yards out on a sweep to the right.
Aaron Medley chipped into the deficit with a 37-yard field goal to make the score 28-10 at the 4:03 mark of the third quarter.
However, Alabama responded with another Hurts touchdown run that extended the Tide's lead 35-10. Alabama added two more scores on Eddie Jackson's 79-yard punt return and Bo Scarbrough's 85-yard run in the fourth quarter to push the margin to 49-10.
Josh Malone notched a team-high 61 receiving yards on five catches. Barnett finished with one sack, one forced fumble, one interception and two tackles for loss. Todd Kelly Jr. (11), Elliott Berry (nine) and Baylen Buchanan (eight) all set career highs in tackles while Emmanuel Moseley tied his career best with eight tackles.
Hurts finished the game with 143 yards passing, 132 yards rushing and three rushing touchdowns. Scarbrough had 109 rushing yards and Damien Harris tallied 94 rushing yards. Alabama had success on the ground, totaling 438 rushing yards as a team.
The Vols were not able to overcome the rash of injuries that they have battled through over the past month. Starters Cameron Sutton, Jalen Reeves-Maybin, Darrin Kirkland Jr., Malik Foreman, Cortez McDowell, Jashon Robertson and Dylan Weisman did not play on Saturday. Additionally, Brett Kendrick, Micah Abernathy and Kahlil McKenzie left the game and did not return for the Vols.
Up Next
Tennessee will have next week off before traveling to South Carolina on October 29th. The Vols have won three straight over South Carolina including a 27-24 victory last year in Knoxville Tennessee.
Climbing The Charts
Evan Berry finished with 91 kickoff return yards to bring his career total to 1,551 yards, passing Devrin Young (1,543 from 2011-14) for third-most in school history. Berry needs 304 yards to pass Willie Gault (1,854) and Leonard Scott (1,788) for most in Tennessee history.
Moving On Up
Derek Barnett's second-quarter sack was the 26th of his career, breaking a tie with Jonathan Brown (25.0 from 1994-97) for third-most in school history. Barnett only trails Reggie White (32.0 sacks) and Leonard Little (28.0).
Hurd Into Seventh
Jalen Hurd rushed for 28 yards to move past Jay Graham (1993-96) for seventh-most rushing yards in the school annals. Hurd now has 2,622 career yards surpassing Graham's mark of 2,609.
Box Score
Alabama (7-0,4-0) vs. Tennessee (5-2,2-2)
| | 1 | 2 | 3 | 4 | Score |
| --- | --- | --- | --- | --- | --- |
| Alabama | 14 | 7 | 14 | 14 | 49 |
| Tennessee | 0 | 7 | 3 | 0 | 10 |
Video