APSU Sports Information

Jacksonville, AL – The Austin Peay State University football accomplished a pair of season first against No. 3 Jacksonville State after becoming the first FCS team to rush for over 100 yards and limiting the Gamecocks to under 100 yards through the air in a 34-14 loss Saturday afternoon in Burgess-Snow Field at JSU Stadium.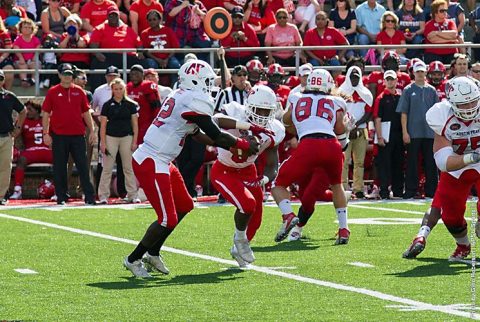 The Governors were tied with the Gamecocks at the 11:46 mark of the second quarter courtesy of a 43-yard touchdown run by quarterback
Timarious Mitchell
.
APSU went into the locker room trailing 14-7, but three consecutive scores by Jacksonville State to begin the third quarter was enough to pull ahead.
Austin Peay recorded 235 total yards in the game, the most against JSU since 2013 (245 yards).
After the Gamecocks pinned APSU deep at its own one yard line on the first drive of the second half, the Govs fumbled the snap which JSU recovered. The Gamecocks capitalized to punch it in for a touchdown, extending the lead to 21-7 which began a string of three-straight scores.
Inside the Box Score
APSU held Jacksonville, who entered the game as the NCAA 7th best offense, to its third lowest total offensive mark over the last two season after the Gamecocks accounted for only 328 yards Saturday.
The last two times APSU failed to reach 300 total yards of offense came in the 2015 National Championship against North Dakota State on January 9th, 2016, 204 yards, and at Michigan State on August 29, 2014, 244 yards.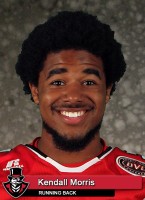 The Govs secondary limited preseason OVC Player of the Year and two-time All-American Eli Jenkins to just 9-of-20 through air. It was the first time since November 23rd, 2016 that JSU had not completed more than 10 passes in a regular season game.
Led by Mitchell's 54 yards on 16 carries and Kendall Morris' 43 yards on 17 carries, the Govs became the first FCS team in 2016 to rush for 100 yards against the Gamecocks. JSU entered play allowing just 88 yards per game on the ground.
With his three receptions on Saturday, senior receiver Rashaan Coleman moved into a tie for 10th place all-time in career catches.
In addition, junior receiver Jared Beard improved his all-time yardage ranking to ninth, 1,263, with 51 yards against the Gamecocks.
Beard continues his streak of totaling 50 or more receiving yards in a game, eclipsing the mark in every contest this season.
Fellow wide out Rashaan Coleman moved into a tie for 10th place on the all-time career reception list with 91 receptions after hauling in three catches Saturday.
Mitchell's 43-yard rushing touchdown is Austin Peay longest run of the season, passing Morris' 33-yard yard scamper at UT Martin last weekend. It was also the second longest run given up by JSU in 2016.
Sophomore safety James Bond nearly matched his career-high in tackles, two off his 12 against Murray State with 10 on Saturday.
Redshirt sophomore linebacker Gunnar Scholato recorded nine stops, giving him 73 tackles in 2016 and with at least eight per game.
Freshman defensive lineman Nick Putman recorded a career-high seven tackles, including one tackle for loss.
Quotes
Head Coach Will Healy on the turning point
"It was a self-inflicted wonld which gave JSU the ball on the one yard line. I think we fought hard again, and I'm extremely proud of that. But if you're playing the No. 3 team in the country, and you give it to them on the one, you're probably in deep trouble. I'm proud of the fight, but we have to stop beating ourselves."
Head Coach Will Healy on his respect for Jacksonville State
"I think they are as good of a defense as we'll see all year. I've been in battles with them when I was at Chattanooga, and they've always been really good on the defensive side of the ball. They also have the best offensive player in this league in Eli Jenkins, and if you keep giving the ball back to him, he will make you pay."
Head Coach Will Healy on the defensive front four
"I'll have to go back and watch, but from the sidelines I thought Nick Putman made a difference. Shaun Whittinghill and Jaison Williams play really hard, and I think Jule Pace has a chance to be a good player. Those four there made some noise."
Summary
1st quarter
JSU 8:05 – The Gamecocks went for it on 4th and 3, with Eli Jenkins hitting Demontez Terry for an 11-yard touchdown.
2nd quarter
APSU 11:46 – On a read option play, quarterback Timarious Mitchell kept the ball, and turned it into a 43-yard rushing touchdown.
JSU 5:59 – Jenkins led a quick three play drive, resulting in a four-yard rushing score by the quarterback.
3rd quarter
JSU 9:27 – After APSU fumbled the snap at their own one yard line, the Gamecocks quickly capitalized with a one-yard touchdown run by Josh Clemons.
JSU 1:35 – To end the third quarter, Jenkins led a 13-play drive, capping it off with a five-yard touchdown scamper to extend JSU's lead to 27-7.
4th quarter
JSU 7:01 – After an APSU punt, Jacksonville State scored on the drive's first play – a 46-yard run by Clemons.
APSU 00:27 – Austin Peay second touchdown of the afternoon came in the game's final seconds, with Mitchell finding a wide open Jared Beard for a 22-yard pitch and catch.
Next Up
Austin Peay returns to Fortera Stadium for its Homecoming game against Mercer, October 22nd, with kickoff set for 4:00pm.
Fans can also follow all the action from the 2016-17 season on www.LetsGoPeay.com, on Twitter @LetsGoPeay & @AustinPeayFB and on Facebook at www.facebook.com/LetsGoPeay
Box Score
Austin Peay (0-6 , 0-5) at Jacksonville State (5-1 , 2-0)
| Team | 1st | 2nd | 3rd | 4th | Total |
| --- | --- | --- | --- | --- | --- |
| Austin Peay | 0 | 7 | 0 | 7 | 14 |
| Jacksonville State | 7 | 7 | 13 | 7 | 34 |