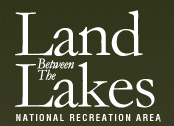 Land Between the Lakes, KY/TN – Trick or treat on the "wild side" at the 22nd Annual Howl-O-Ween program, Saturday, October 22nd, from 1:00pm-4:30pm at Woodlands Nature Station in Land Between the Lakes National Recreation Area.
Tickets go on sale at 12:00pm and cost $5.00 per person ages 5 and up, free for ages 4 and under. Nature Station admission included with purchase. First tour leaves at 1:00pm; last tour leaves at 4:00pm.
"Howl-O-Ween is fun for kids of all ages. This event offers a great way for families to spend time together while enjoying a lighthearted outdoor experience," says Monica Main, Nature Station Naturalist. "Costumed characters, like Otis the Bat, are nervously preparing for a 'Nature's Got Talent' show. They need help deciding which skills they should show off to their friends."
Nature Station guides take visitors on a ¼-mile woodland walk during this non-scary, daytime event all about animal talents. Kids can collect goodies along the way. Costumes are welcome and encouraged. Other activities include crafts, face painting, and learning about wildlife at Land Between the Lakes.
Fourth grade students can go to www.everykidinapark.gov, get their free Every Kid in a Park pass, and get their family in for free. For more information call 270.924.2299. Visitors are encouraged to dress for the weather and bring an umbrella in case of rain.
To find more information about Land Between the Lakes, log on to the official website at www.landbetweenthelakes.us or call 1.800.LBL.7077 or 270.924.2000.